Seated Female Figure
Not on view
Figures like these appear in the annual celebrations of Jo, an association of initiated men and women living near the towns of Bougouni and Dioïla in southern Mali. They also appear in the rituals of Gwan, a related institution concerned with helping women to conceive and bear healthy children. Jo and Gwan sculptures are larger than most Bamana figures, and their distinctive style consists of massive, rounded forms rather than the angular, cubistic ones more typical of Bamana art. Finely incised scarification marks cover their faces, necks, and torsos.
For annual Jo and Gwan rituals, the sculptures are removed from their shrines, cleaned and oiled, decorated with cloth and beads, and set up in the village square in groups. The groupings always feature a mother and child, usually accompanied by a similarly attired male figure and several other male and female figures. The mother and child and her male counterpart are seated in positions of honor, wearing and holding tokens of their physical and supernatural powers -- among them, knives, lances, and amulet-studded hats. The companion figures are often shown in attitudes of respect and submission. When viewed as a whole, these groups of sculptures are the embodiment of Bamana ideals and behavior.
Although sculptures such as these continue to be produced and displayed in a few Bamana villages, some may have been made considerably earlier. Many of the ornaments and weapons seen on the Jo and Gwan figures are also found on terracotta figures from Mali that date from the twelfth to the seventeenth century. Radiocarbon analysis also suggests that these examples may be older than the one or two centuries generally thought possible for wood sculptures to survive in the African environment.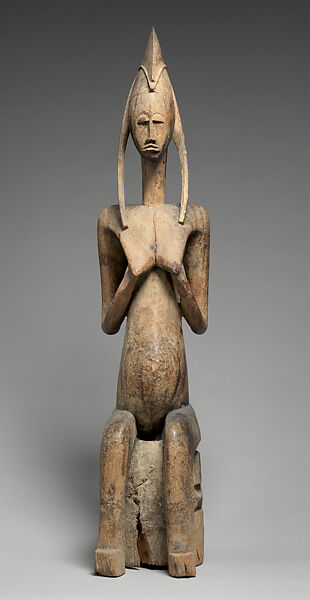 This artwork is meant to be viewed from right to left. Scroll left to view more.