Staff: Female Figurative Finial
Not on view
This scepter was once part of a treasury of royal prestige items owned by an Ovimbundu chief in what is today north-central Angola. A finely carved and highly polished female head and torso comprise nearly one-half of its length. Elegant and refined, this idealized woman represents positive qualities the leader would wish to cultivate within himself. Careful attention has been paid to the accurate depiction of the elaborate coiffure, which is composed of two thick lobes swept backwards down the neck, and to the decorative markings on the skin. These bodily adornments, many of which would be received during an individual's transition into adulthood, were indications of social achievement and cultural integration. The figure's meditative expression, composed of downcast eyes and pursed mouth, combine with a bulging forehead to suggest intelligence and insight as well as deliberation and purpose. Decorative brass tacks embellish the base of the torso. Brass was an expensive, imported material that was drawn upon to enhance prestige items in this region. It served not only to beautify these sculptures and increase their value but also to indicate their owners' successful trading relationships with foreign powers.

It is possible that the female figure on this scepter was inspired by royal art of the Luba kingdom to the north, in the southeastern region of present-day Democratic Republic of Congo. This important polity expanded its power and influence along trade routes that penetrated this region, forming alliances with smaller chiefdoms that eagerly adopted aspects of its prestigious political system and courtly art forms. Luba insignia of leadership enhanced with idealized female representations may have inspired Ovimbundu patrons to include these forms. The Ovimbundu chief who owned this scepter may have wished to associate himself with Luba ideals by emulating this characteristic element of Luba regalia.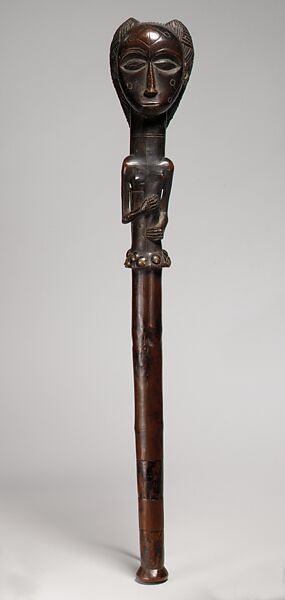 This artwork is meant to be viewed from right to left. Scroll left to view more.