Basket (Jawun)
Not on view
The unique bicornual ("two-horned") baskets known as jawun produced by the rainforest peoples of northeastern Queensland in Australia are among the most elegant and versatile baskets in Oceania. Created only in the comparatively small region that lies between the modern settlements of Cooktown in the north and Cardwell in the south, jawun were used for collecting and processing food and, in the case of larger examples, at times for carrying young infants. The baskets had two handles, only vestiges of which remain on the present example. The first, a short loop, was used to hang the basket from a tree branch or the post of a shelter to keep the contents safe from animals. The second was a long, straplike handle that was looped around the wearer's forehead, allowing the basket to be worn hanging down the back to keep the user's hands free. Jawun were used for collecting and carrying food, such as nuts and seeds, on forays in the rainforest. They were also employed as sieves in the process of leaching toxic substances from certain plant foods in order to render them safe to eat. Filled with the food to be leached, such as the large seeds known locally as "black beans," jawun were placed in running streams with the open top facing upstream and the hornlike projections wedged among the river stones. There they were left, at times for several days, to allow the water to flow through them and leach out the toxic compounds in the food.

In former times, jawun were made by men but today artists of both sexes create these distinctive baskets. Typically plain, they are at times painted. Jawun painted in natural pigments with designs that replicate those seen on rainforest shields were used in ceremony or for exchange. The present example is decorated with images of a kangaroo and a turtle. Although these may be depictions of game animals, they possibly represent animals from the Dreaming (primordial creation period).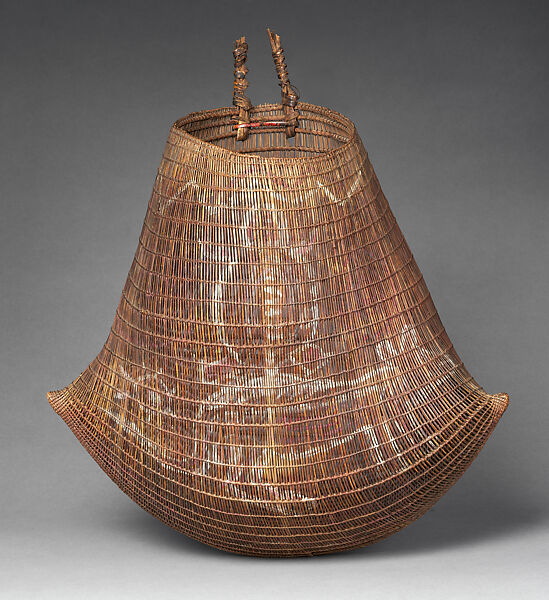 This artwork is meant to be viewed from right to left. Scroll left to view more.