Beete Mask: Gorilla (Gon)
Not on view
Sub-Saharan peoples south of an imaginary line extending from the lower Cross River in Cameroon eastward to southern Somalia speak related languages known collectively as Bantu. Although the cradle of this linguistic family lies in the Benue Valley of Nigeria, over the centuries peoples with this heritage have come to occupy all of central Africa. The Kwele are among the Bantu-speaking peoples who live in western equatorial Africa's rain forest. During the precolonial era, inhabitants of the region adhered to a highly diffuse notion of territoriality. Loose clusters of village settlements composed of lineage groups were easily disrupted by internal antagonisms that led to the founding of new communities.

To mitigate social fragmentation, Kwele leaders developed the magical rite of beete, which dissipated conflict by redirecting attention to ancestral relics owned by specific lineages. Integrated into the rite were dances led by masked performers called ekuk, or "things of the forest." Most ekuk masks bore prominent animal attributes, including the bata, or ram, mask, which was characterized by horns curved around the face. Other animal features, such as trunks and beaks, inspired Kwele artists to carve elements that project beyond a single pictorial field.

The gon, an especially fierce type of ekuk mask, exaggerates the salient features of a gorilla skull. Gon-wearing dancers were armed with weaponry, and their wild, aggressive behavior necessitated their being physically restrained. In the last decades of the nineteenth century, as the commercial environment became increasingly competitive and economic rivalries intensified between neighboring communities, gon's aggressiveness was directed toward rival centers as a strategy for establishing political dominance.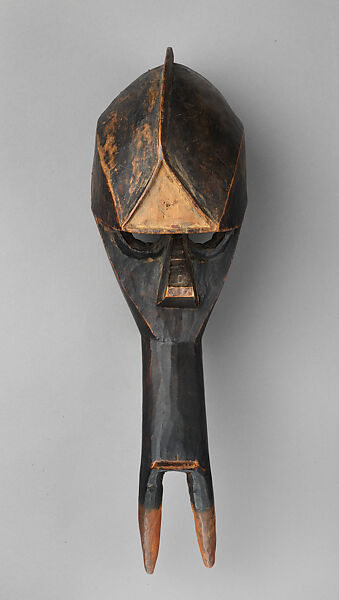 This artwork is meant to be viewed from right to left. Scroll left to view more.