Fan (Drel or Ral)
Not on view
The women of the Marshall Islands are renowned as some of the finest weavers in the Pacific. According to one tradition, if the umbilical cord of a newborn girl is placed among pandanus leaves or other weaving materials then she will grow up to be a talented weaver. In addition to weaving fine mats and baskets, weavers express their skills through the creation of personal adornments and hand fans.
It was once the case that every island group across Micronesia had their own unique and identifiable style of hand fan. However, stylistic attribution can be difficult as woven goods were valuable items of exchange throughout the region, and fans were often traded and gifted between islands. In the Marshall Islands women weave fans of two basic types. Simple fans woven from coconut leaves serve practical functions like cooling the body and fanning embers to kindle a blaze. This fan is an example of the more elaborate variety, woven from pandanus and black hibiscus fiber, with a central rib pattern that radiates from a midrib-like handle and is surrounded by a delicately patterned border. Fans like this were likely a form of personal accessory.
This fan came to the Metropolitan Museum of Art via a Mission Museum in Hiltrup, Germany, meaning it likely dates to the period of German occupation in Marshall Islands prior to the First World War. Fine weaving from the Marshall Islands began to enter the United States in greater numbers from the middle of the twentieth century, when weavers produced works for sale to American soldiers who were based in the Marshall Islands during the Second World War and the subsequent period of US nuclear weapons testing that took place between 1946 and 1958.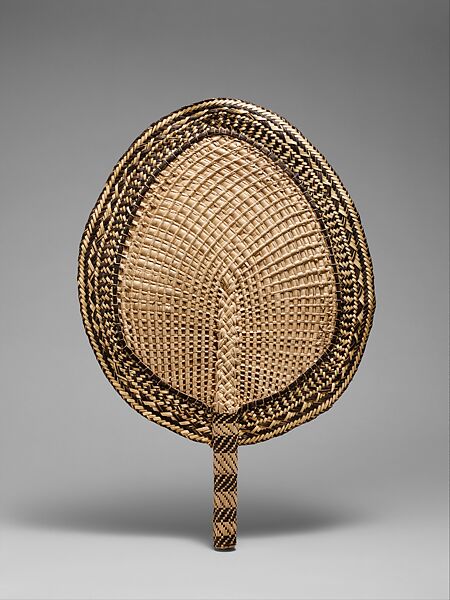 This artwork is meant to be viewed from right to left. Scroll left to view more.