Dress Mat (Jaki-ed, In, or Nieded)
Not on view
The women of the Marshall Islands are renowned as some of the finest weavers in the Pacific. According to one tradition, if the umbilical cord of a newborn girl is placed among pandanus leaves or other weaving materials then she will grow up to be a talented weaver. Among the highest expressions of this skill are jaki-ed, the finest quality of Marshallese mats.
Jaki-ed are woven from wūnmaan̄, a variety of pandanus, which is boiled, trimmed, and dried in the sun before being beaten to release the natural oils of the plant and then stripped ready for weaving. The weaving technique used to make the mats is a form of plaiting. Mat weaving is a highly social activity, with women gathering to talk and share stories as they work. Jaki-ed are woven in three parts, the jouj (central section) is woven first and then stitched to the separately woven in̄in̄ (decorated border). The final element to be added is the bakwoj, which is sewn over the top of the seam between the jouj and the in̄in̄ , both to strengthen the join and enhance the appearance of the mat.
When worn as garments jaki-ed became known as nieded. Women would wear nieded in a paired set with one at the front and the other wrapped around it from behind so that the patterns on both mats are visible. The garment would be secured by a belt around the waist. Men would wear similar garments as a single piece of cloth wrapped round the hips.
During the twentieth century, weaving of jaki-ed as garments began to diminish as Marshallese people adopted fabric clothing following influence from missionary contact and successive colonization by Germany, Japan and the United States. During the Second World War, women began wearing nieded again, as disruptions to shipping lines prevented the import of textile clothing. In recent years there has been an active program for the revival of jaki-ed weaving in Marshall Islands, where the techniques and designs are being researched and reconstructed. Today, jaki-ed have become a powerful symbol of cultural resistance and resilience within a nation profoundly affected by climate change and the legacies of US nuclear testing.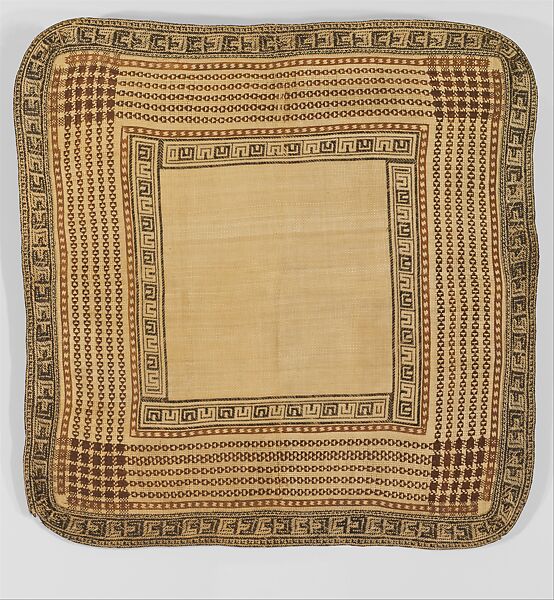 This artwork is meant to be viewed from right to left. Scroll left to view more.