Fragment of a Pendant (Marremarre Lagelag or Buni)
Not on view
Micronesian art is notable for the variety and inventiveness of its jewelry. Living primarily on low-lying atolls, narrow crescent-shaped islands of raised coral that provided little apart from wood and fiber, artists turned to the seas that surrounded them, which yielded a wealth of durable and beautiful materials for jewelry. In the Marshall Islands, artists created a diversity of delicately crafted ornaments to adorn the head and neck. Beyond enhancing the appearance of the wearer, some Marshallese ornaments also marked the social status of the wearer. Among the most prestigious and highly valued were wide, comb-shaped pendants known as marremarre lagelag or buni.

Reserved for chiefs, the pendants were fashioned from precious materials. Some examples were made from turtle shell or whale ivory, but others, such as the present work, were painstakingly carved from the hard shell of the giant clam. When newly completed, the shell had an appearance similar to white marble, which became patinated through years of use. When in use, the pendant seen here would have been strung on delicately braided lengths of fiber and accented with brightly colored disks of pink and orange shell and other materials, attached through the numerous holes that appear at the upper margins, to form the dramatic centerpieces of elegant, chiefly necklaces.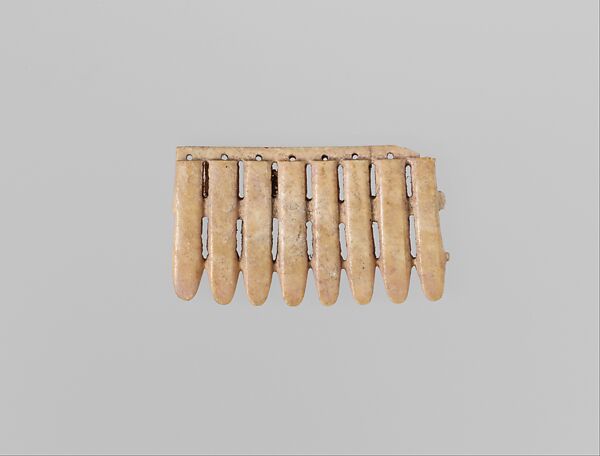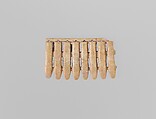 This artwork is meant to be viewed from right to left. Scroll left to view more.