Ornamental Plume
Not on view
This spectacular plume is one of the earliest surviving examples of goldworking from the south-central Andes of Peru. Hammered to just 0.3 to 0.4 millimeters in thickness, this plume has been carefully cut and shaped with near identical incised designs on both sides. The plume's now broken shaft suggests that it was once worn as a headdress ornament or used as a straight pin for a woman's shawl.

The upper register of the plume depicts a supernatural, staff-bearing figure with both human and feline features, its head surrounded by ray-like appendages. The figure's large face, shown frontally, is composed of rounded eyes, a snout-like nose, and a grimacing mouth with prominent fangs. The figure's body, seen in profile, has been marked with various geometric shapes. Its hands, visible on the object's proper left, grasp an implement from which a bird in profile hangs from its beak.

The figure stands above an enclosure incised with complex iconography associated with ceremonial activities. The circle at the center of the lower register represents a sunken-court temple, with large feline heads flanking the entrance to the court. Within the enclosure are four spotted camelids, which likely served as sacrificial offerings. Outside the circular court, human figures shown in profile carry religious paraphernalia while disembodied heads, birds, and llamas encircle the court. A third human figure can be seen directly above the ornament's broken shaft.

Widely known as the Echenique Plume for its nineteenth-century owner, this object is stylistically linked to the Pukara, who are associated with a monumental site of the same name near Lake Titicaca in the southern Andean highlands. The Pukara, who flourished from around 500 B.C. to 450 A.D., employed highly sophisticated techniques for creating ceramics, textiles, stone sculptures, and metal objects. Scholars have proposed that the Pukara are the predecessors of the Tiwanaku, a powerful culture that later developed in the same area. Indeed, this plume may illustrate an early rendition of Tiwanaku stylistic traditions, as the overall composition, architectural imagery, and careful intricacy are comparable to those seen in later Tiwanaku textiles.

References
Chávez, Sergio J. "The Yaya-Mama Religious Tradition as an Antecedent of Tiwanaku." In Tiwanaku: Ancestors of the Inca, edited by Margaret Young-Sánchez, 70-95. Denver: Denver Art Museum; Lincoln: University of Nebraska Press, 2004.

Pillsbury, Joanne, Timothy Potts, and Kim N. Richter, eds. Golden Kingdoms: Luxury Arts in the Ancient Americas. Los Angeles: The J. Paul Getty Museum and The Getty Research Institute, 2017. Cat. no. 47, p. 158.

Young-Sánchez, Margaret, ed. Pre-Columbian Art and Archaeology: Essays in Honor of Frederick R. Mayer: Papers from the 2002 & 2007 Mayer Center Symposia at the Denver Art Museum. Denver: Denver Art Museum, 2013.

Young-Sánchez, Margaret. "Ornamented Gold Plume." In Tiwanaku: Ancestors of the Inca, edited by Margaret Young-Sánchez, 94-95. Denver: Denver Art Museum; Lincoln: University of Nebraska Press, 2004.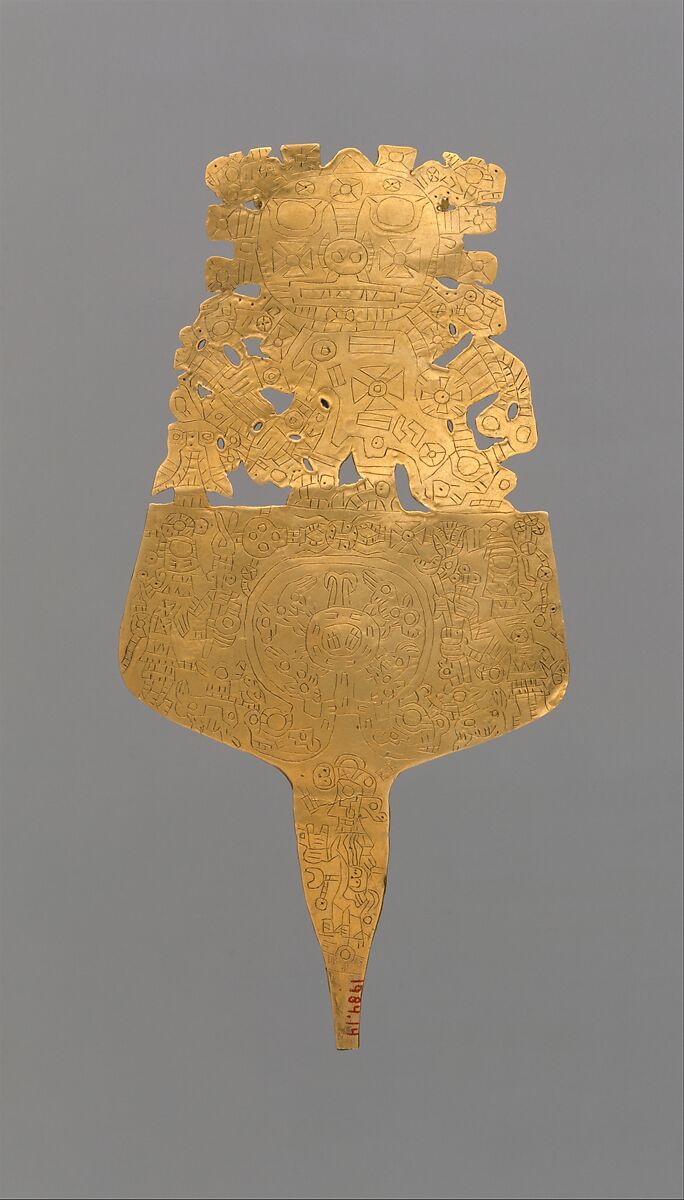 This artwork is meant to be viewed from right to left. Scroll left to view more.