Figure: Male
Not on view
Although its precise culture and date of origin are unknown, this work is intriguing for both stylistic and chronological reasons. Its abstract, protuberant facial features, spare but elegant dress, and prestigious objects relate it to Dogon sculptures, but its style and iconography share much in common with that of Inland Niger Delta terracottas of the twelfth to seventeenth centuries as well. Indeed, it has been suggested that this sculpture is contemporaneous with these terracottas, a hypothesis that has been reinforced by early radiocarbon dates.

This wooden sculpture depicts a distinguished elder whose demeanor, attire, and presentation command respect. His short trousers and cotton cap are characteristic of traditional Dogon dress, and the L-shaped wooden staff slung over his right shoulder is used as a weapon, tool, and ritual object by Dogon men. Accoutrements such as the decorative pendant hanging about his neck and the knife strapped to his left arm call attention to and reinforce the man's dignity and high status.

At present it is not possible to definitely assert that this work was made by the Dogon themselves or a neighboring people. One of the many figures with unquestionably Sahelian features but uncertain provenance, this work and others like it are legacies of a region and history that we are only beginning to understand.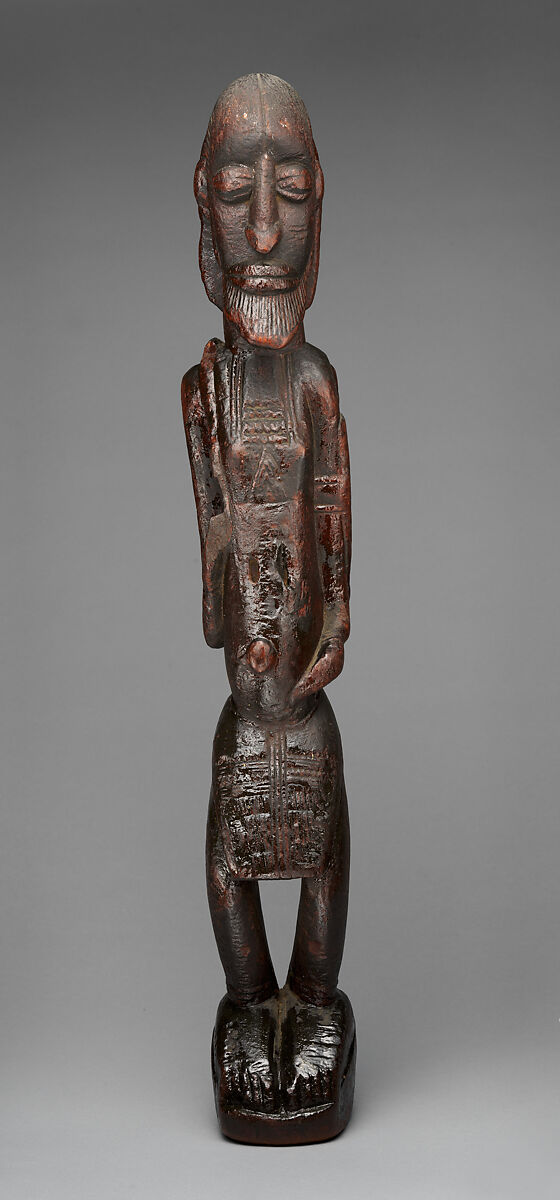 This artwork is meant to be viewed from right to left. Scroll left to view more.