Pectoral: Face
Not on view
Cast brass masks such as this one were owned by paramount chiefs and titleholders of the Benin kingdom. Representing the face of the oba himself, these masks were worn suspended from the neck to indicate rank and demonstrate fealty to the king. As Benin expanded its political influence and military control over many of its neighbors, those foreign rulers who were absorbed into its political system also received these masks. Created at the court by royal brass casters, such works were distributed by the oba to newly incorporated chiefs. This work is believed to have belonged to either the Amapetu of Mahin or the Olugbo of Ugbo, two Yoruba rulers approximately eighty miles to the west of Benin City.

Like most pectoral masks, this work depicts a human face framed at the bottom by an ornamental flange with loops for small metal rattles. The hair, bordered by a sharply angular hairline, consists of rows of small concentric circles. Two inlaid iron vertical marks on the forehead lend balance and dignity to the face, and invest the pupils of the eyes with an intensity and power befitting a ruler. The four vertical marks to either side of these are found on Benin sculptures depicting Edo women or non-Edo men, suggesting that this work may have been created expressly for the use of a foreign ruler. The subtle molding of the nose and cheeks as well as the sensitive, delicate mouth imbue the representation with a naturalism that is stylistically associated with the earliest period of Benin sculpture, suggesting that it was created between the fifteenth and seventeenth centuries.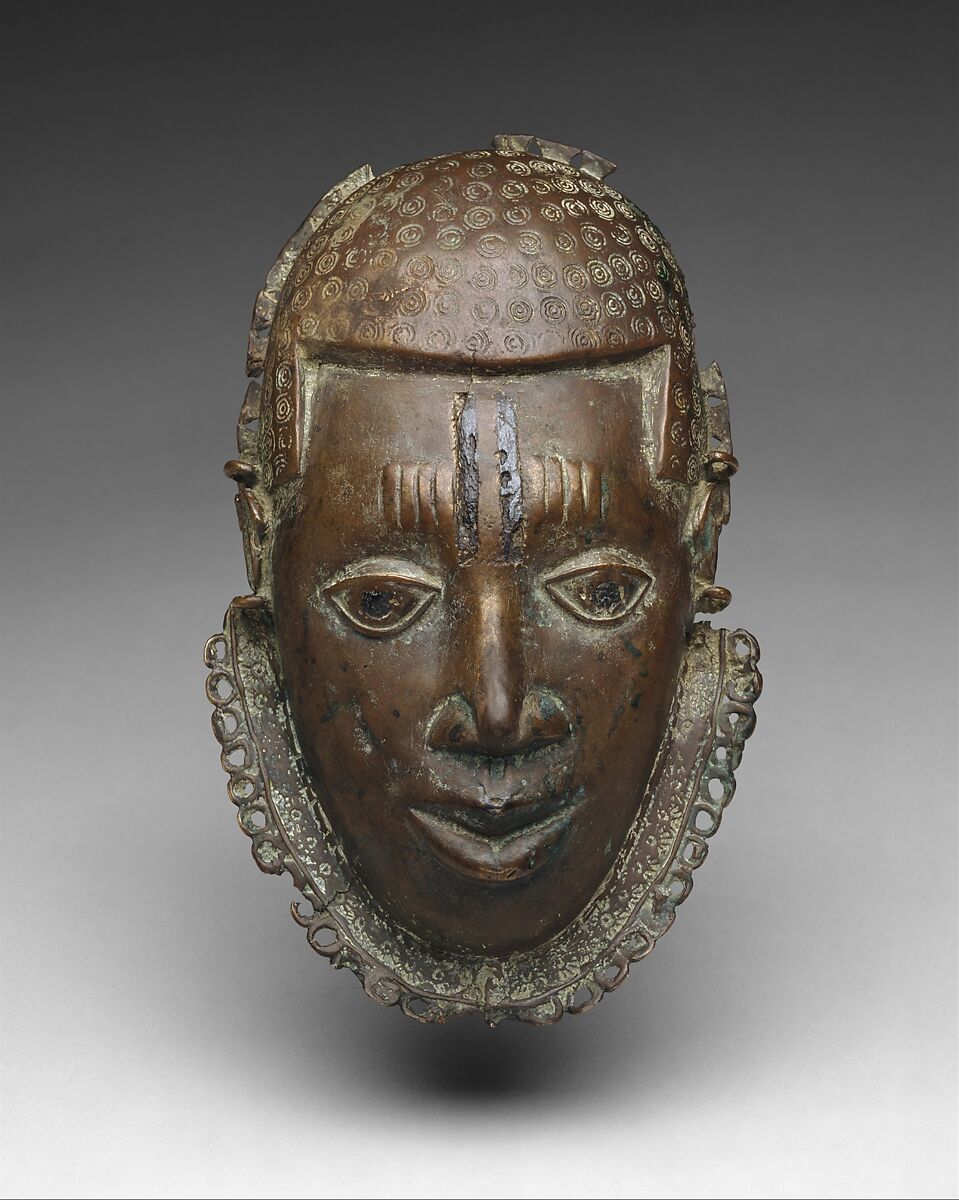 This artwork is meant to be viewed from right to left. Scroll left to view more.