Bell: Horse Head
Not on view
A broad range of ethnic populations existing from the lower Niger Delta to the lagoon area east of Lagos manufactured conical brass bells with flared lips and human or animal faces. They were employed as markers of rank, prestige, and spiritual authority. Often worn on the body as part of a costume, they were sometimes carried by attendants who rang them to bring attention to the important personages they served.

This bell portrays the facial features of a horse. Two leaflike ears rise vertically from a striated forehead. The slanting eyes are separated by a smooth, circular medallion and a braided band running the length of the snout, which ends in flaring nostrils. An oblong loop represents the mouth. Lengths of fringe connected by rings to a strap across the muzzle suggest a harness. The bell is surmounted by a straplike handle embellished with a series of flattened spirals.

Images of horses were incorporated into a wide variety of prestige arts from this area. Horses were imported from the north at great expense and were the prerogative of only the wealthiest and most powerful individuals. Some kingdoms with large, standing militaries used horses for cavalry units that were devastatingly effective in warfare. As such, horses were fitting symbols of worldly success and military supremacy.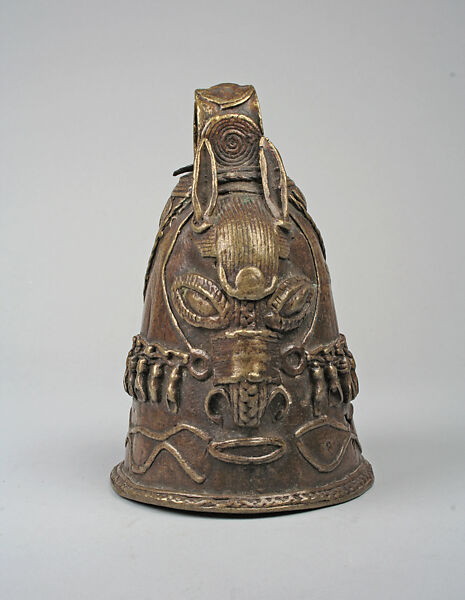 This artwork is meant to be viewed from right to left. Scroll left to view more.