Double Diptych Icon Pendant
Not on view
In the seventeenth century, Ethiopian artists were increasingly exposed to forms of expression from Europe. During this period, double-sided diptychs became popular among the nobility as pendant icons worn suspended by a cord around the neck. The subject matter depicted on this example is a standard program for this genre of personal icon, as are the intricately carved cruciform designs that enhance the exterior surfaces of the protective covers.

This icon is a classic example of the painting style developed during the late seventeenth century at Gondar, the trading center where King Fasiladas (r. 1632–67) established his capital. Portrayed frontally with slightly turned heads and simple, iconic gestures, the figures are superimposed upon neutral backgrounds. Bodies are delineated with thick black outlines, while faces are composed of flat areas of pink and orange. Curving lines and attenuated arcs are employed to evoke the folds of draped robes and mantles.

The double-sided pendant contains four painted surfaces depicting Christian subject matter. On one side of the main panel, the Virgin Mary appears seated, holding Christ and flanked by archangels carrying swords. Grasping the Book of the Gospel and making a gesture of benediction, the Christ Child gazes lovingly at his mother, who in turn stares out toward the viewer. On the outer panel (the interior surface of the cover), Saint George appears on horseback slaying the dragon. This combination of saints was extremely popular in Ethiopian religious painting, and served to emphasize the close relationship between the Virgin Mary and Saint George, the soldier of God who was her constant companion. The opposite side of the icon illustrates the Crucifixion, with Mary and Saint John standing sorrowfully to either side of Christ. The outer panel illustrates the Resurrection, in which a monumental Christ raises the diminutive figures of Adam and Eve by their arms. A flag of victory to Christ's right indicates this triumph over death.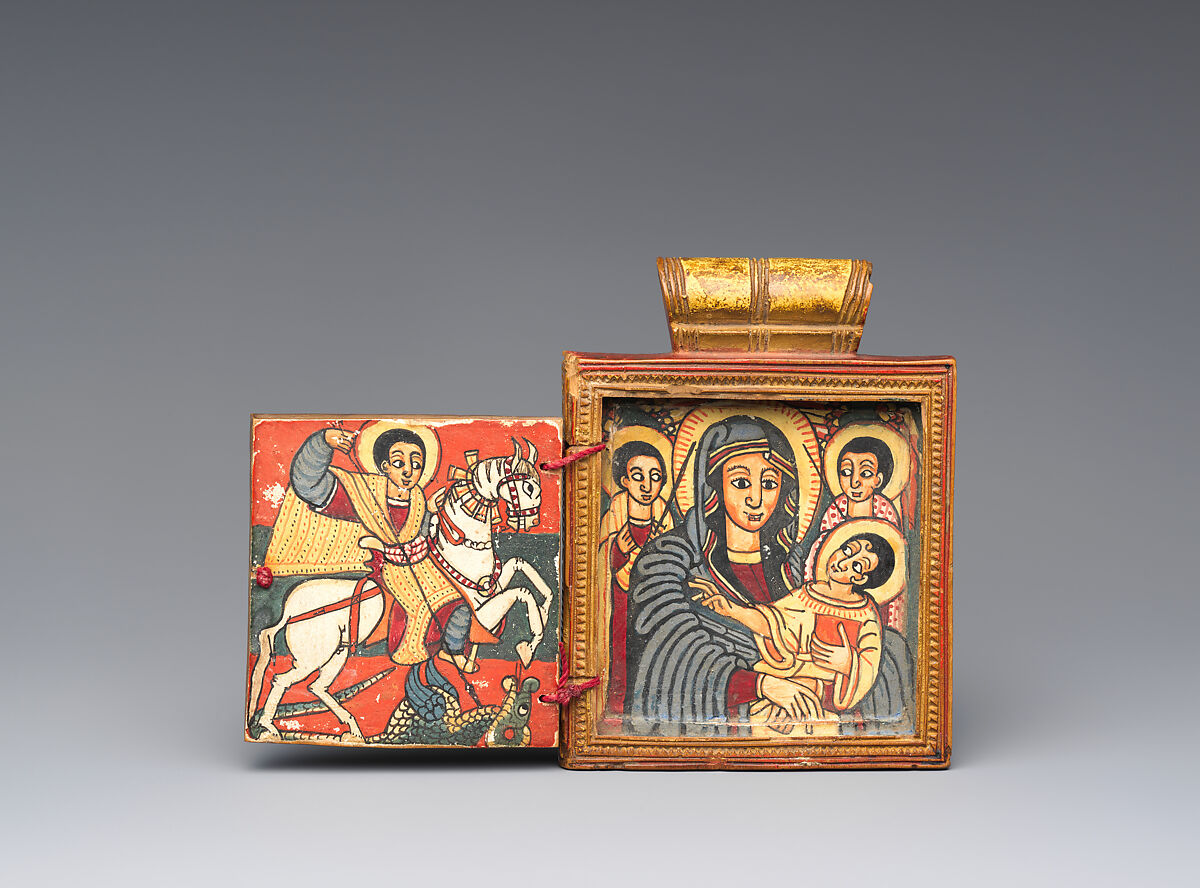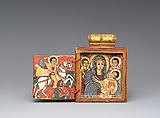 This artwork is meant to be viewed from right to left. Scroll left to view more.