Tunic with Crescent Headdress Figures
Not on view
Chimú men wore broad tunics, sometimes with a fringe at the bottom, often over elaborate loincloths. This tunic was woven in two panels seamed together at the middle, leaving an opening for the neck. Both the background and the design, a striking composition featuring figures with crescent headdresses, were brocaded using bright red, white, yellow, and ochre camelid-hair yarns that covered a plain brown cotton ground. The lower border was woven with a line of repeating bird motifs and the garment was finished with a double fringe at the bottom.

The tunic's pattern of repeating figures wearing a relatively plain type of crescent headdress, and a lower border with small birds seen in the border, are characteristic of a late Chimú style (Rowe, 1984). The figures are frontal, their arms outstretched and bent at the elbows, and the digits of the hands oriented outward or upward. The trunk of their bodies is triangular, and the feet point outward. The faces are rendered simply: three circles—or portions of circles—indicate the eyes and mouth. Circular forms on either side of the face represent ear ornaments, important markers of status and perhaps specific identities in the ancient Andes (see Met object number 1991.419.67, .68). The figures' most important features, however, are the crescent-shaped headdresses they wear. Crescent-shaped headdresses made of gold and other precious materials have been found in the tombs of important lords on Peru's North Coast, and the shape itself—evocative of the moon, but also associated with the blade of a type of ritual knife known as a tumi—links the wearer to powerful, likely supernatural, forces.

The proper right panel (on the left in the photograph) is more densely populated with figures than the other panel, as if made by a different weaver. Other irregularities on this panel include tilting figures and upside-down birds in the woven border. Furthermore, the weaver appears to have misjudged the length needed for the panel, so that the top line of figures, near the shoulder, are upside down, rather than right-side up on the back of the garment as they would appear had the panel been longer.

Joanne Pillsbury, Andrall E. Pearson Curator, and Christine Giuntini, Conservator, 2018

Reference

Rowe, Ann Pollard. Costumes & Featherwork of the Lords of Chimor: Textiles from Peru's North Coast. Washington, DC: Textile Museum, 1984.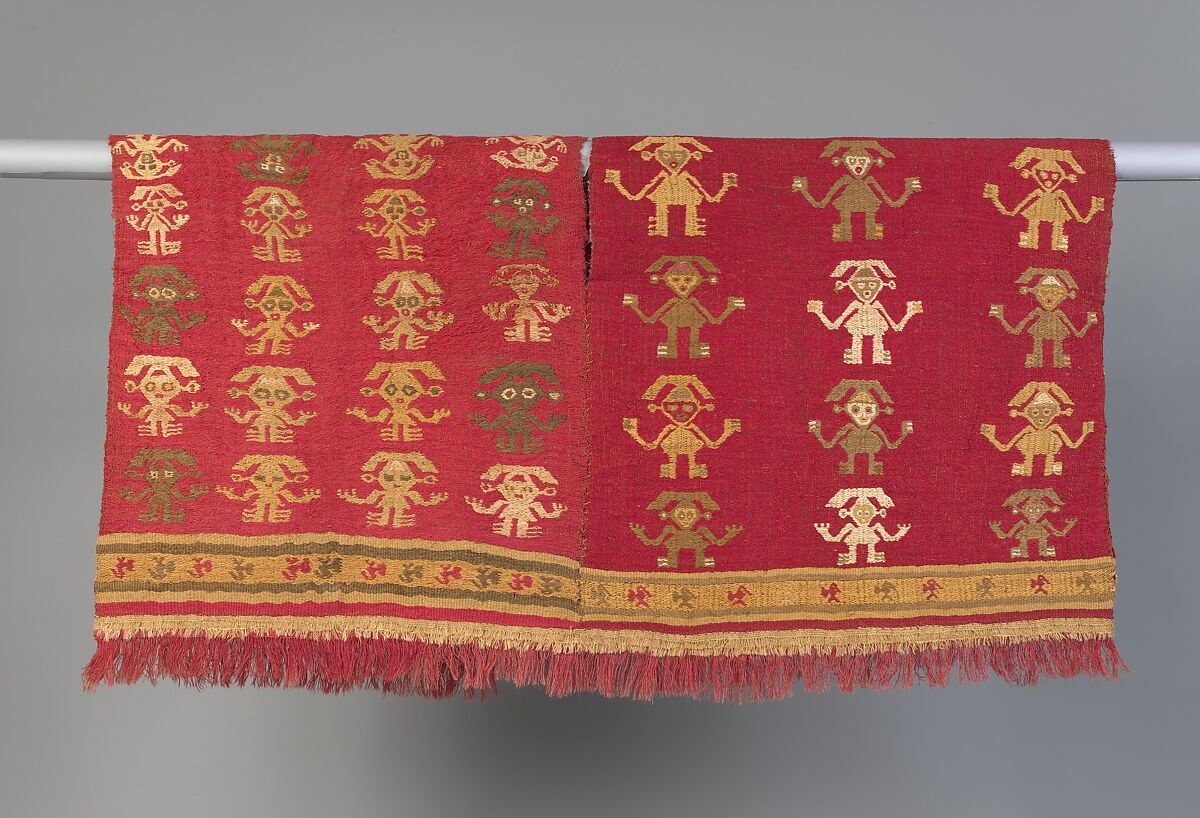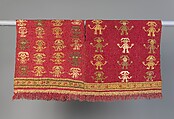 This artwork is meant to be viewed from right to left. Scroll left to view more.