Headrest
Not on view
Wood headrests are both a longstanding and widespread form created by African sculptors. Shona sculptors from present-day South Africa, Zimbabwe, and Mozambique have contributed a rich range of formal and aesthetic interpretations. Among the Shona, headrests served as a kind of "pillow" used by adult males to sleep. The user could sleep either on his back with the headrest under the base of his neck, or on his side with the headrest under his chin and one ear. Headrests also provided a means to keep the elaborately braided coiffures of Shona men in good order and free from soil or dust.

The rectilinear composition of this headrest is a format associated with Shona sculptors from northeastern Zimbabwe and extending partially into Mozambique. Northeastern-style headrests commonly feature a rectangular upper platform that is decorated on its slightly upturned edges. This example features a stripe of parallel incisions along the surface edge. Extending from the underside of both extremities of the upper platform are small tabs known as ears or lugs. The upper platform is balanced by a lower platform comprised of six abutting circular shapes. The central support of this headrest is comprised of two vertical columns that create a negative space between them and also feature blocks of negative space within the columns themselves. This format avoids the use of circular motifs in the supports, a common characteristic in other Shona styles. These rectilinear supports give the headrest a graphic composition and appearance that are marks of northeastern-style headrests. The work is carved from a single piece of dark brown wood. Its surface is now covered with a lustrous patina, reflecting many years of frequent use. Works like this Shona headrest, as well as the other southern African headrests in the Museum's collection, reflect the effort invested in the design of functional objects by southern African carvers.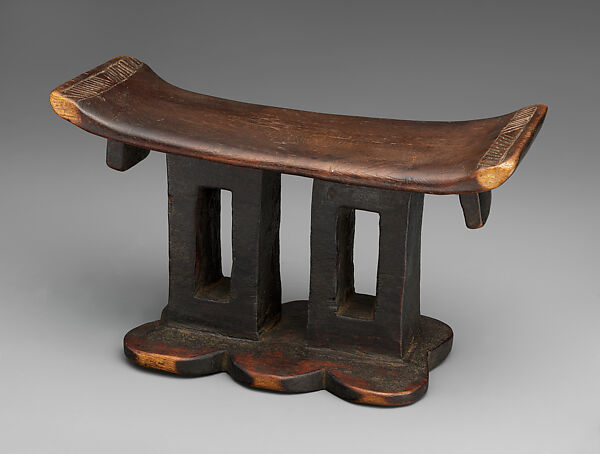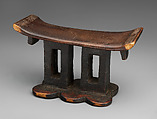 This artwork is meant to be viewed from right to left. Scroll left to view more.