Saltillo Serape
Not on view
In Precolumbian Mexico, cloth was woven of vegetal fibers such as cotton and ixtle, the fiber of the maguey, or agave plant. Simple two-beamed backstrap looms were used, with one beam attached to a post and the other fastened to a strap wrapped around the weaver's waist. With the arrival of the Spaniards in the sixteenth century, new technologies and raw materials, including wool, were introduced to the local weaving industry. Large serapes, or men's wearing blankets, began to be fabricated on narrow European, horizontal mechanical looms. From the eighteenth century onward, they were made in northern Mexico and were worn primarily by affluent horsemen. Weavers, men rather than women as in Precolumbian times, used tight, finely spun cotton and wool dyed with natural dyes, primarily indigo and cochineal. Although Saltillo serapes, which are named for the prestigious weaving center in the Mexican state of Coahuila, vary in size, most are twice as long as they are wide. Woven to appear the same both front and back, they customarily consist of two separate panels seamed in the center. Those made in one panel, as the present example, are rare.

The serape's distinctive design has three basic components that are easily recognizable as center, field, and border. The center, often a large diamond, is the dominant feature. Each of the design zones is made up of many smaller motifs, including triangles, lozenges, ovals, rhomboids, and dots. The sharp edges of the geometric patterns and the many changes of color create a multihued effect of great vibrancy.

This serape dates from the second half of the nineteenth century, when aggregate diamonds in the center and dot repeats in the field were popular, as was the use of gold and silver wrapped yarns.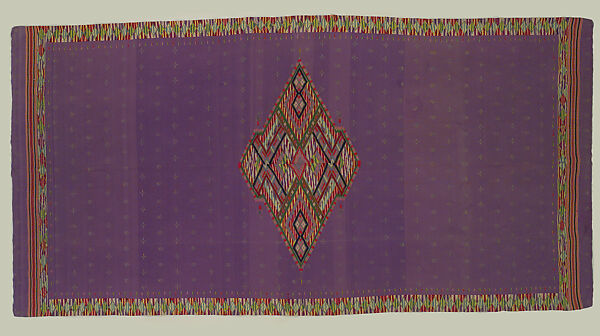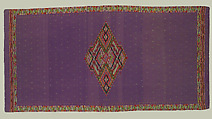 This artwork is meant to be viewed from right to left. Scroll left to view more.