Pendant with Seated Lord
Not on view
A Maya jade worker carefully sculpted this jadeite pendant to feature a seated ruler in relief on its bright green and blue-grey surface. The greenest part of the stone, the most prized for its association with maize, water, and agricultural fertility, was used for the head and torso of the royal figure. Jadeite, known as yax tuun or "blue-green stone" in the hieroglyphic language, mined from sources along the Motagua River Valley in what is now Guatemala, was a prized luxury material across ancient Mesoamerica and was used for beads, pendants, plaques, and figures for regalia and votive purposes. For example, dozens of plaques and pendants of this type were found offered into the Cenote of Sacrifice at Chichen Itza.

The subject in this scene is a man seated with his legs crossed on a low dais. His left foot is relaxed over the edge of the bench, and his left hand is raised to his chest in a gesture of addressing someone. He wears wide beaded anklets and bracelets, a long beaded necklace, and a large feathered headdress, regalia indicative of a royal person. The person depicted may be an ancestor or a likeness of the ruler who commissioned this pendant, which has a drilled section so that it could be strung as an ornament.

Further reading

Filloy Nadal, Laura Forests of Jade: Luxury Arts and Symbols of Excellence in Ancient Mesoamerica. In Pillsbury, Joanne, Timothy F. Potts, and Kim N. Richter, eds. Golden Kingdoms: Luxury Arts in the Ancient Americas. Los Angeles: J. Paul Getty Museum, 2017, pp. 67-78.

Proskouriakoff, Tatiana. Jades from the Cenote of Sacrifice, Chichen Itza, Yucatan. Memoirs of the Peabody Museum of Archaeology and Ethnology,Harvard University, v. 10, no. 1. Cambridge, Mass: Harvard University Peabody Museum of Archaeology and Ethnology, 1974.

Taube, Karl A. The Symbolism of Jade in Classic Maya Religion. Ancient Mesoamerica 16(1): pp. 23-50.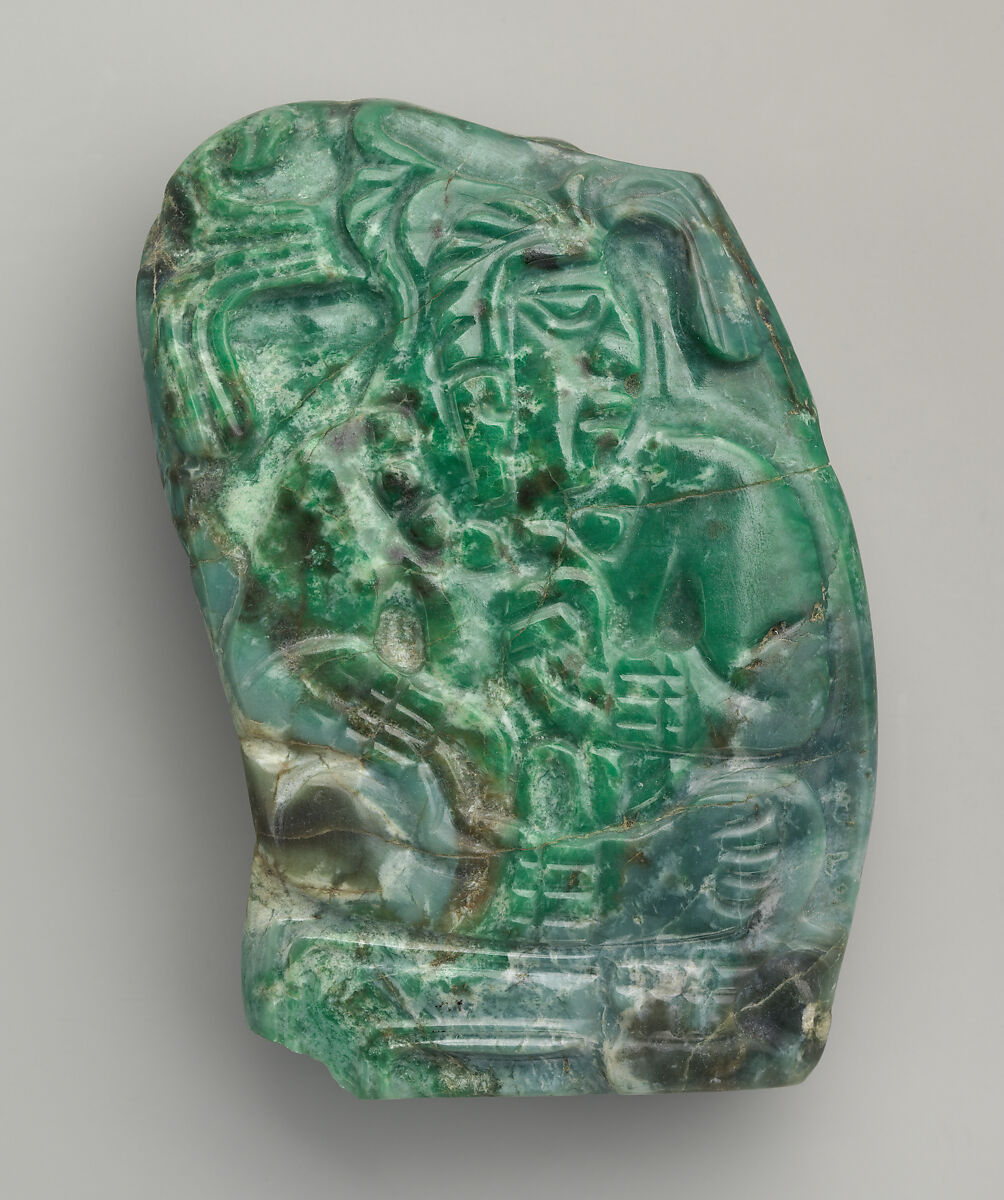 This artwork is meant to be viewed from right to left. Scroll left to view more.