Miniature Tabard
Not on view
In 1532, a small, poorly equipped Spanish expeditionary force improbably defeated the vastly superior Inca army at Cajamarca, Peru. In bloodshed, these two disconsonant worlds thus began their metamorphosis into a distinctive culture. In both iconographic and technical details, this small, bright garment exemplifies the hybridized reality of viceregal Peru. The tabard's petite proportions strongly suggest that it was intended to dress a votive figure, a custom practiced in both Inca and Christian cultures, and whose roots extend back in time beyond their initial meeting.

The weaver of this garment, likely descended from Inca specialists, drew upon ancestral technology, as the preponderance of technical features are Andean in origin. Other technical details, however, veer from Inca standards—chief among them, the garment's sides were left open in the manner of a tabard, rather than sewn closed in the fashion of pre-Conquest period tunics. Locally produced camelid fiber and cotton were combined with lustrous lemon yellow silk and a shiny metal-wrapped yarn imported to Peru from the Old World.

The minimal and formal design format of the classic military checkerboard tunic, with its Inca-derived stepped-diamond yoke at the shoulders and dark and light checkerboard below, was subverted. The weaver raised the checkerboard from the lower portion of the tunic to the yoke and punctuated each square with an oval embellishment. A waistband of tocapu motifs—borrowed from a different type of traditional Inca tunic—was added to the lower portion of the garment, which was further populated with flowers in two rows. The pendulous trumpet-shaped pink flower placed at the beginning and end of the lowest row is the cantuta (Cantua buxifolia), a flower sacred to the Inca.

Christine Giuntini, 2017

Published references

Giuntini, Christine. 2017. "Miniature Tabard." In Golden Kingdoms: Luxury and Legacy in the Ancient Americas, edited by Joanne Pillsbury, Timothy Potts, and Kim Richter, 271. Los Angeles: Getty Publications.

Phipps, Elena. 2004. "Miniature Tunic (Uncu)." In The Colonial Andes: Tapestries and Silverwork, 1530–1830, edited by Elena Phipps, Johanna Hecht, and Christina Esteras Martin, 276–77. New York: The Metropolitan Museum of Art.

Pillsbury, Joanne. 2006. "Inka-Colonial Tunics: A Case Study of the Bandelier Set," in Andean Textile Traditions: Papers from the 2001 Mayer Center Symposium at the Denver Art Museum, edited by Margaret Young-Sánchez and Fronia W. Simpson, 120-168. Denver: Denver Art Museum.

Further reading

"Inka Unku: Strategy and Design in Colonial Peru." Cleveland Studies in the History of Art 7 (2002):68-103.

Rowe, Ann Pollard. 1995-1996. "Inca Weaving and Costume," The Textile Museum Journal 1995-1996: 4-54.

Rowe, John H. 1979. "Standardization in Inca Tapestry Tunics." In The Junius B. Bird Pre-Columbian Textile Conference, May 19th and 20th, 1973, edited by Ann P. Rowe, Elizabeth P. Benson, and Anne-Louise Schaffer, 239–64. Washington, DC: The Textile Museum; Washington, DC: Dumbarton Oaks Research Library and Collection.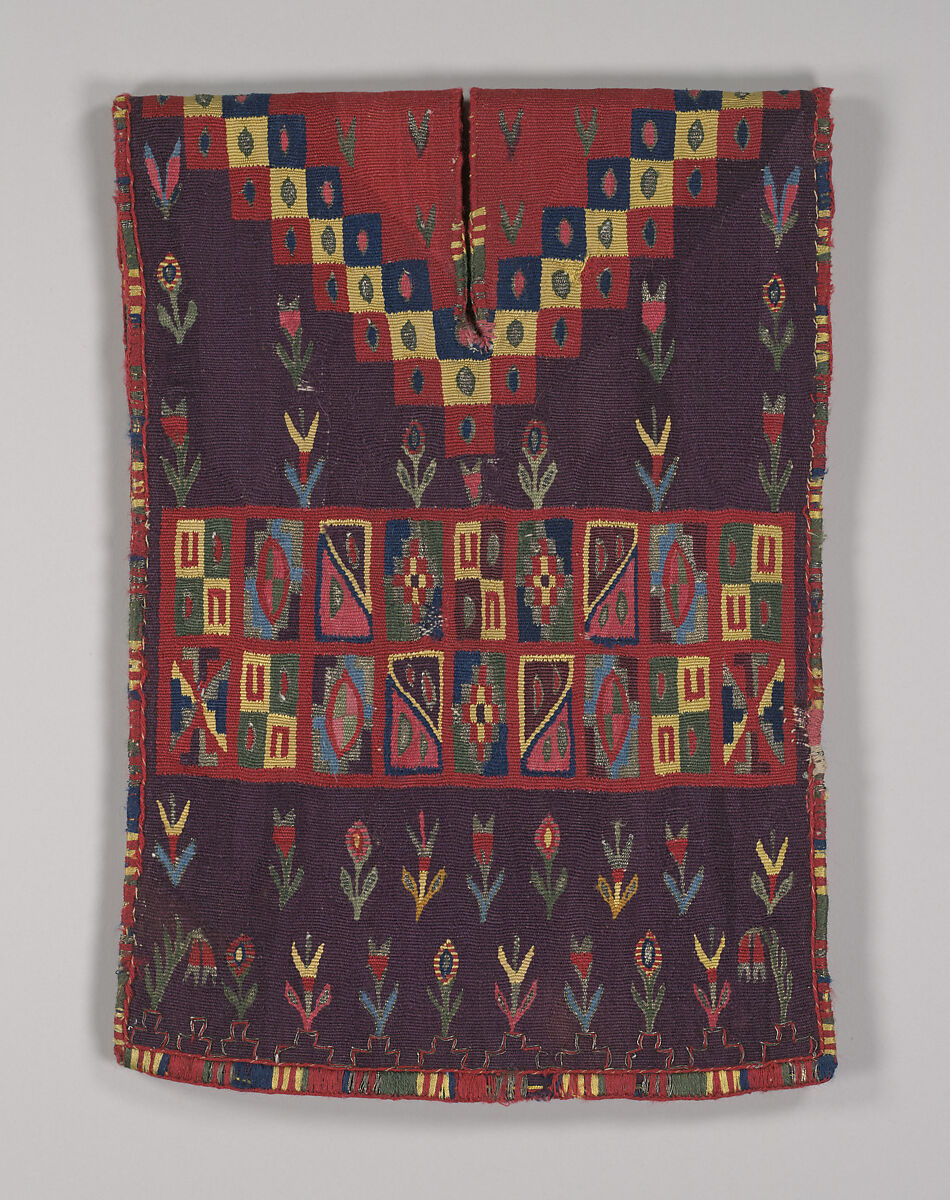 This artwork is meant to be viewed from right to left. Scroll left to view more.