Memorial Head (Nsodie)
On view at The Met Fifth Avenue in Gallery 136
This elegant terracotta head is a memorial portrait (nsodie) of an Akan ruler from present-day southern Ghana. It is an idealized representation whose serene expression and well-balanced features suggest the positive qualities such rulers are expected to embody. Created posthumously, royal images like this one were placed with the portraits of previous rulers in sacred areas within the cemetery called asensie. Generally, each royal figure was accompanied by sculptures of courtiers and servants, perhaps to provide aid and comfort to the deceased in the afterlife. Together, they formed sculptural assemblages that honored and preserved the memory of these respected individuals and the chiefly lineages of which they were part. At certain times of the year, the asensie was the focus of prayers, libations, and other offerings that ensured the continuing support and protection of the ancestors.

Sculptures associated with this tradition, which dates to at least the seventeenth century, were produced in a wide variety of regional styles. Like other commemorative sculptures in clay created by artists in the Twifo-Heman traditional area, this reflective portrait is characterized by its serene and meditative expression. Its volumetric and circular head is personalized through distinctive individualized details: cicatrices adorning the temples and an elaborate coiffure. The face's features are symmetrically defined on either side of the straight ridge of the nose, terminated by slightly flared nostrils that seem to vibrate with life. Striated raised eyebrows interrupt a smooth forehead and arch over shut eyes, defined by a central slit marking each eyelid. The thin-lipped mouth stretches in a small smile that animates the face and adds to its overall sense of serenity. Rows of five vertical cicatrices adorn each temple. Semi-circular ears extend on both sides of the face. This work provides a study of the contrasts between the refined simplicity of the reflective face and the exquisite elaboration of the highly personalized coiffure. In this multi-teared coiffure, each lock has been exploited as an opportunity for abstract formal exploration.

Comparing this individualized representation with the other example from the same region in the Met's collection (1978.412.563) reveals the genre of nuanced details implemented by artists to differentiate one individual from another. Indeed, accounts of the creation of Akan memorial heads suggest that the artist, selected by the family, studied the subject in repeated sittings during his or her lifetime.

In much of Africa, clay is an artistic medium primarily associated with women. European visitors to this region in the mid-nineteenth century documented a related Akan tradition of lifesize funerary sculpture crafted by female artists. Although earlier accounts did not identify the producers of these smaller memorial heads, it is probable that they were created by female sculptors as well.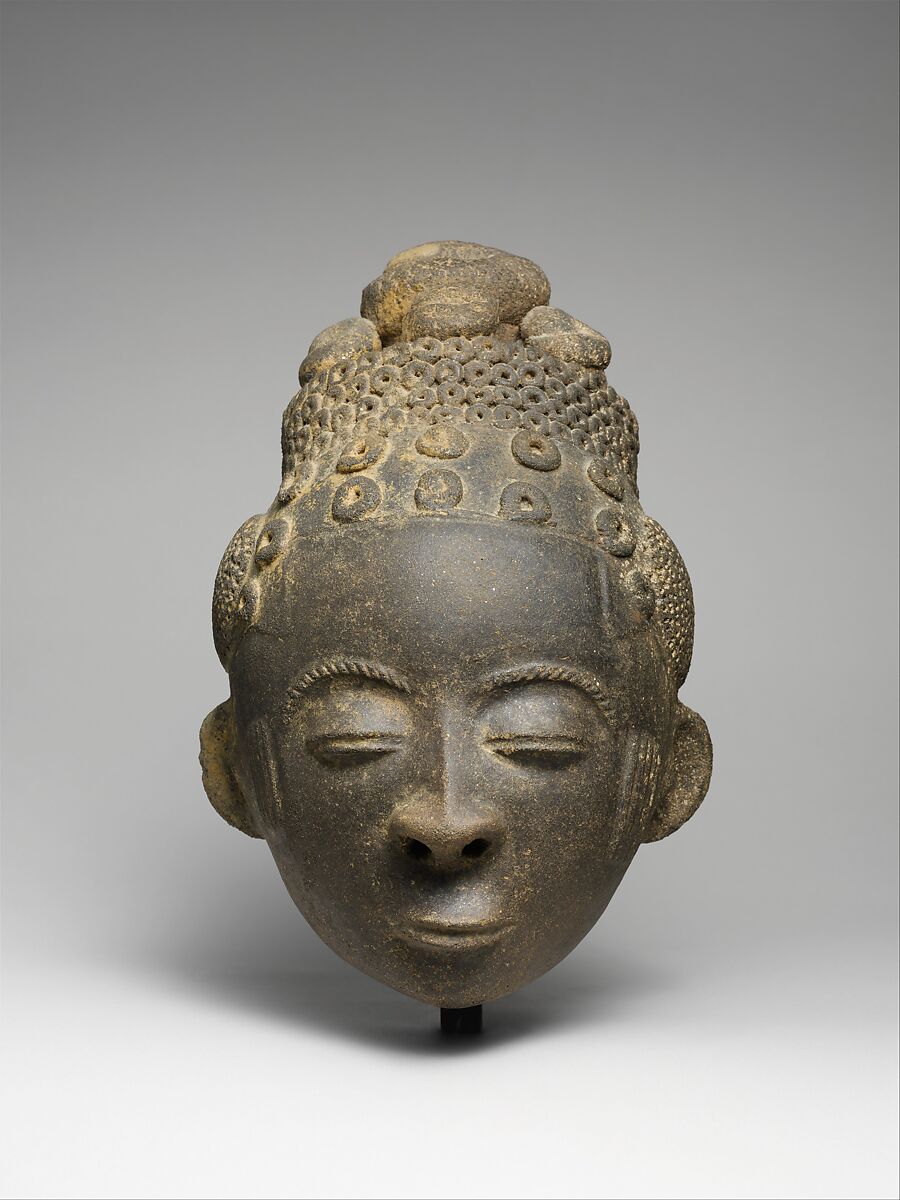 This artwork is meant to be viewed from right to left. Scroll left to view more.