Pair of Four-Barreled Turnover Percussion Pistols of Henry Pelham Fiennes Pelham-Clinton, 4th Duke of Newcastle-under-Lyne (1785–1851), with Pair of Box-Lock Turn-Off Pocket Pistols, Case, and Accessories
Not on view
Recent archival research revealed this lavish set to be one of the costliest pistol ensembles ever made by James Purdey, selling for £101 10s in 1831. Purdey made just ten four-barreled pistols in his career, and this pair is the only surviving set cased with pocket pistols. It is remarkable, too, for its exceptional state of preservation. The combination of vivid blueing, case-hardening, and finely finished wood looks much as it would have to the original owner, the fourth Duke of Newcastle-under-Lyne.

One of the more prominent British aristocrats of his era, the fourth Duke of Newcastle-under-Lyne took delivery of this lavish pistol set from Purdey in April 1831. The duke purchased it for self-defense three months after being assaulted by a mob in the streets of Newark. The attack was prompted in part by his vigorous opposition to electoral reform, a contentious national issue that reached a boiling point in the early 1830s. Roughly six months after the duke acquired his pistols, the House of Lords rejected a new reform bill, resulting in widespread public violence. Several private residences were attacked, including the duke's Nottingham mansion, which rioters burned to the ground on October 10, 1831. The duke was in London at the time. Weapons with a small customer base among the elite, Purdey's four-barreled pistols show the great expense that members of the aristocracy lavished on firearms for personal protection.

The finest London firearms made in the classic British style of the early nineteenth century rank among the most stately and innovative in the history of gunmaking. They are recognizable by their elegant proportions, restrained ornament, and technical refinement. Graceful yet practical and balanced in the hand, they privilege overall formal quality and flawless mechanical work over applied adornments. This emphasis on the purity of form references the Neoclassical style then in vogue. It also breaks from the longstanding tradition of decorative opulence in fine Continental European firearms.

London gunmakers favored subtle embellishments that complemented the firearms' deliberate and meticulous assemblies. An aesthetic vocabulary of blued, case-hardened, and browned steel and richly finished walnut, both with tasteful gold and silver accents, defines much of their best work. The various component parts of these firearms were individually produced under the direction of a master gunmaker by highly specialized craftsmen, including a lock smith, barrel forger, stocker, and engraver. From about 1790 firearms were generally fitted with mahogany cases, whose interiors were lined with green baize (woolen cloth) and subdivided into discrete compartments for the weapon, tools, and accessories.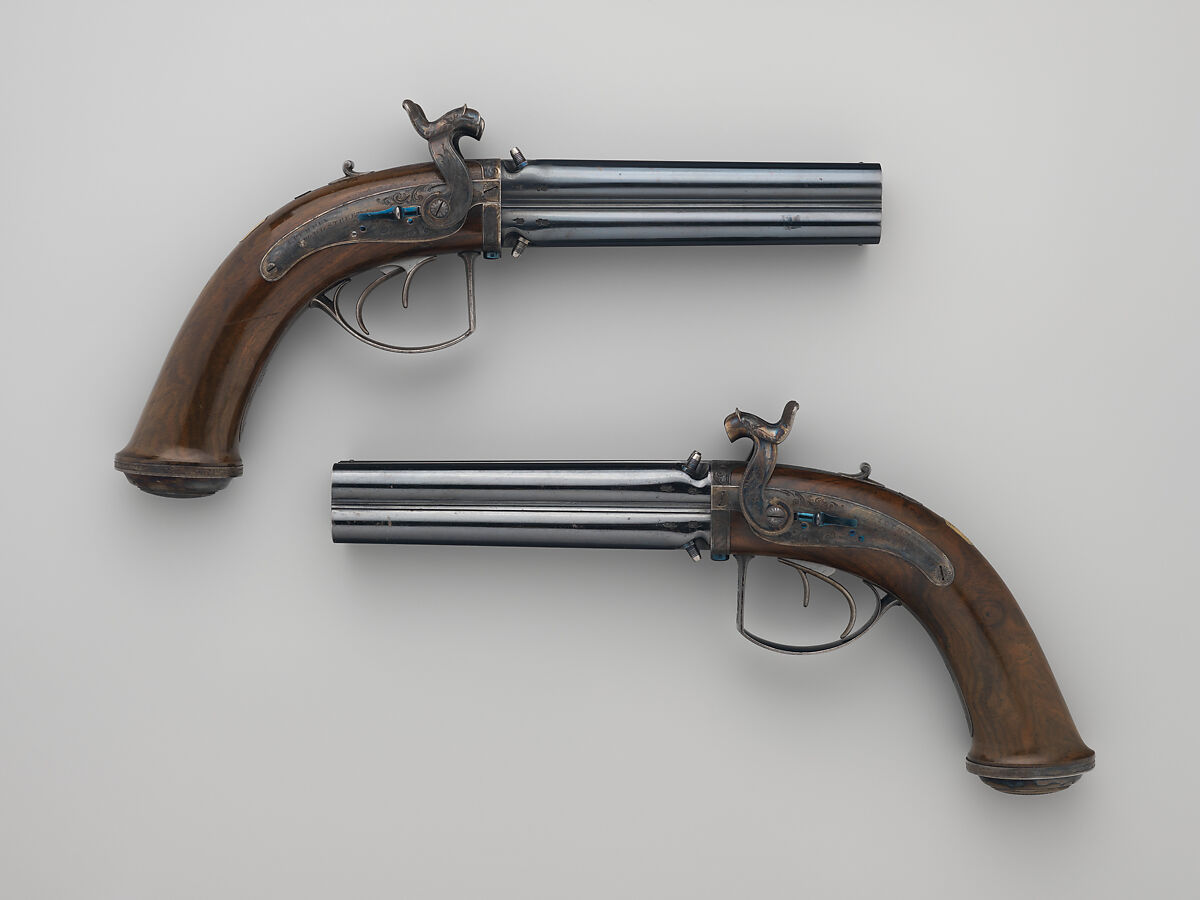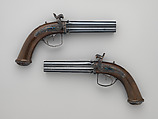 This artwork is meant to be viewed from right to left. Scroll left to view more.