Pair of Flintlock Pistols
Gunsmith Samuel Brunn British
Marked for Michael Barnett British

Not on view
These pistols rank among the most lavishly embellished Neoclassical English firearms known. They are the masterpieces of Samuel Brunn, a leading London sword cutler and gunmaker who held appointments to the Prince of Wales (later Prince Regent and King George IV, 1760–1830) and other members of the royal family, as well as to the government's Board of Ordnance. The barrels and locks are of blued steel engraved and gold-inlaid with trophies of arms and foliage. The decoration of the stocks, combining engraved sheet-silver inlay and heavy cast and chased silver mounts, was inspired by contemporary French Empire firearms. The mounts, the designs of which appear to be unique to British firearms, are the work of a silversmith using the mark M.B., recently identified as the London sword-hilt maker and silversmith Michael Barnett.

Several of the ornamental motifs are based on ancient Roman sources: a nereid feeding a sea leopard on the sideplate derives from an engraving, published in Rome in 1762, of a wall painting found in the ruins of Herculaneum; and the oval medallion on the trigger guard, representing Hercules with a defeated Amazon, is based on an antique gem known from contemporary engravings and casts after the original. The Medusa head on the butt also derives from classical art, but here the idealized model has been transformed into a grimacing yet almost humorous caricature of the legendary gorgon.

These pistols epitomize the opulence and sophistication of English decorative arts produced during the reign of the Francophile Prince Regent, for whom they were reputedly made.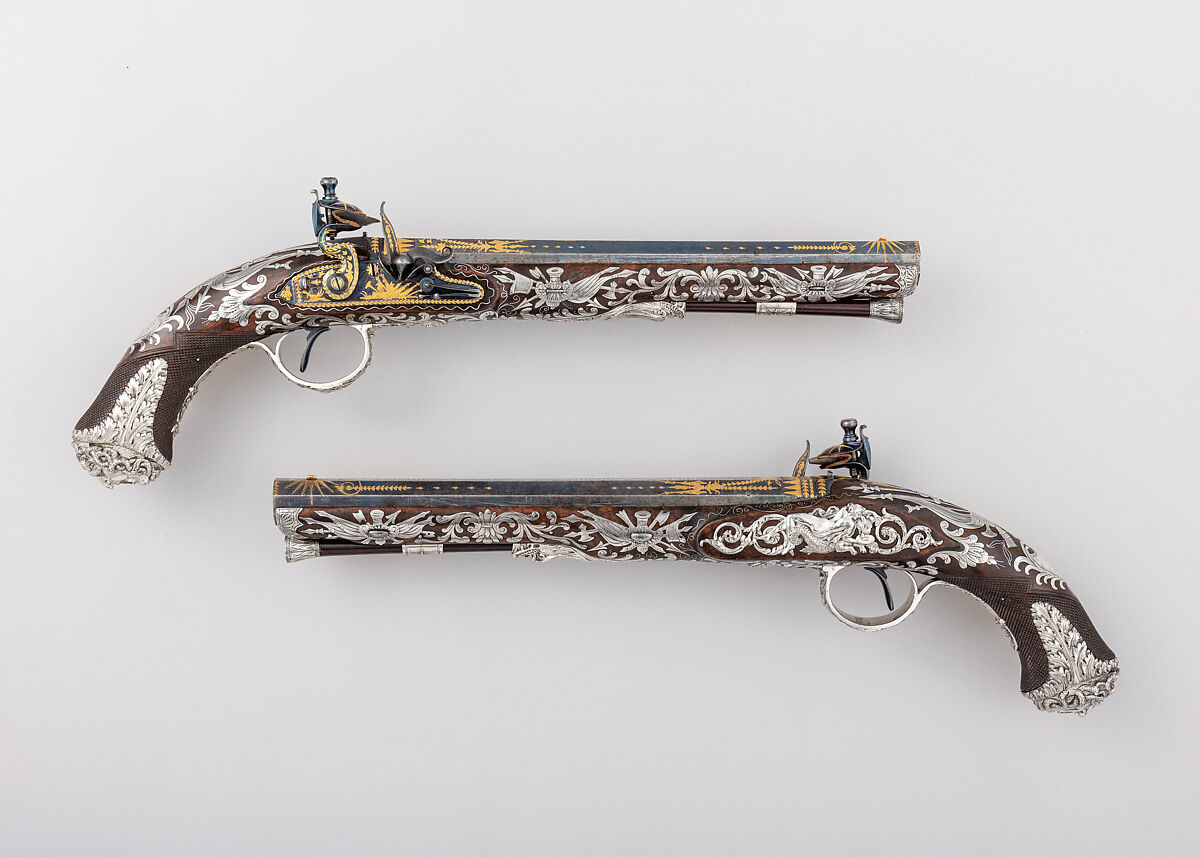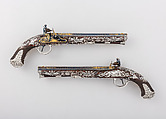 This artwork is meant to be viewed from right to left. Scroll left to view more.