Relief panel
Not on view
The beardless male figure depicted on this panel from the Northwest Palace at Nimrud (ancient Kalhu) is almost certainly a eunuch. Many such figures appear in Assyrian art, as eunuchs were central to court life. As they could not have children themselves, eunuchs were generally perceived as less of a threat to the king and his dynasty; however, some eunuchs did become enormously powerful. Those depicted close to the king are often shown with specific functions, in this case that of an arms bearer: the figure carries a mace, bow, quiver of arrows, and sword, all of which were most likely those of the king. It is probable that this role was a privileged one, and that to be depicted in this way reflected a very high rank at court. Like other mortal and supernatural figures shown in the reliefs, he is richly dressed, wearing finely embroidered clothes, earrings, a collar, an armlet with animal-head terminals, and a bracelet with a large rosette. The lower part of the relief is a modern reconstruction.

On the left side of the relief can be seen part of a stylized "sacred tree," a symbol that appears repeatedly in the palace. The tree represents no real plant, and the form in which it is depicted varies within Neo-Assyrian art. The tree is generally thought to be a symbol of the agricultural fertility and abundance, and probably the more general prosperity, of Assyria.

The "Standard Inscription" listing the achievements of Ashurnasirpal II (r. 883–859 B.C.) runs across the panel. The inscription is carved in cuneiform script and written in the Assyrian dialect of the Akkadian language. After giving his ancestry and royal titles, the Standard Inscription describes Ashurnasirpal's successful military campaigns to east and west and his building works at Nimrud, most importantly the construction of the palace itself. The inscription is thought to have had a magical function, contributing to the divine protection of the king and the palace.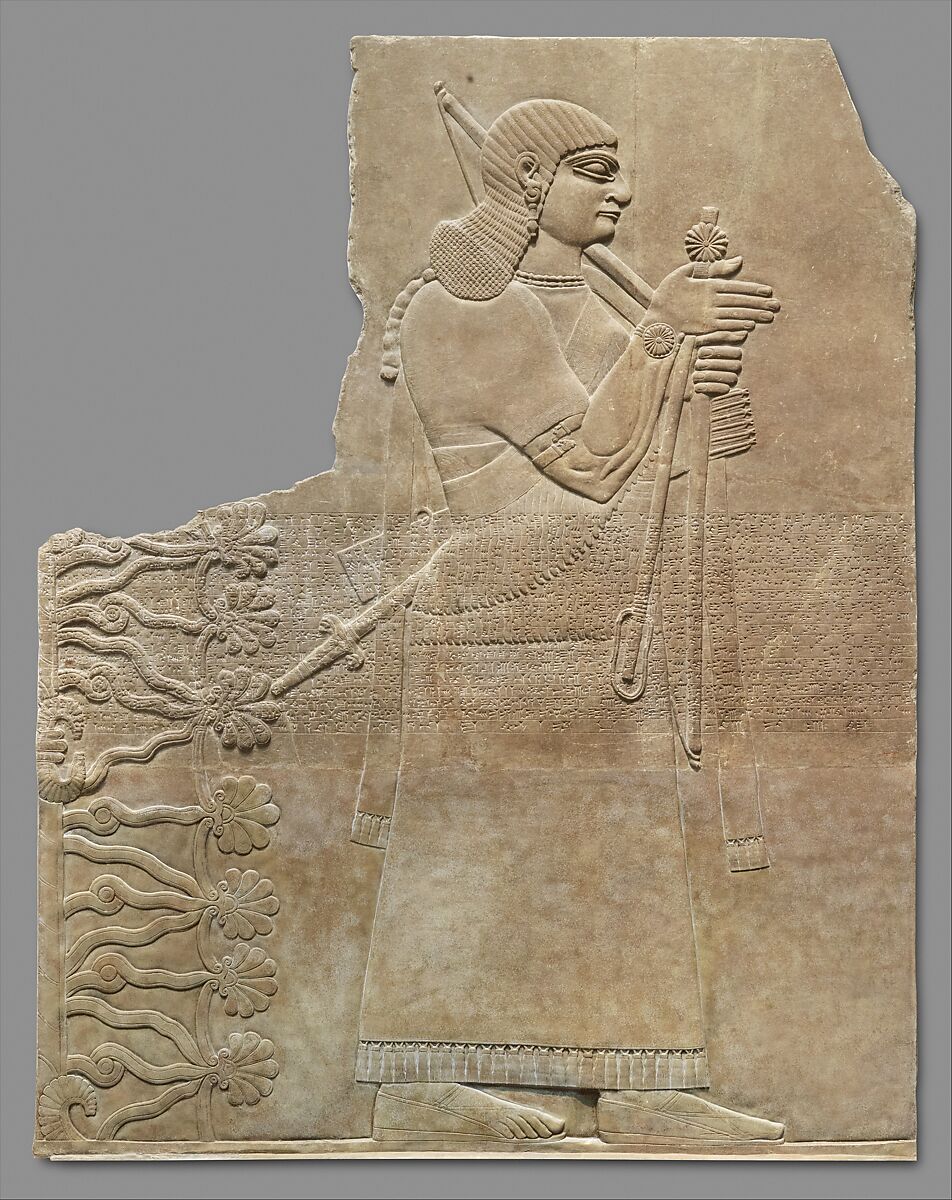 This artwork is meant to be viewed from right to left. Scroll left to view more.