Incised cosmetic box fragments with a warrior and four women
Not on view
These slightly curved, incised ivory fragments were found in a private house abutting the town wall at Nimrud. Originally, they probably decorated a pyxis, a small round box used for cosmetics, which may have been salvaged from one of the palace complexes at Nimrud after they were sacked during the final defeat of Assyria at the end of the seventh century B.C. Circular holes drilled through both pieces likely helped to secure the ivory with dowels to the interior of the pyxis, which was perhaps made of wood and has not survived. Because they share motifs and images with the monumental stone reliefs that lined the walls of Assyrian palaces, ivories with incised decoration like this one have been attributed to an Assyrian style.

On one fragment, a bearded figure wearing a long, fringed, elaborately embroidered garment and armed with a bow and arrow, sword, and shield with projecting spikes stands with his back to a figure clashing cymbals or beating a drum. On the other fragment, three women, rarely represented in Assyrian art, with long hair and wearing distinctive floppy hats, are shown standing behind the crenellated battlements of a walled city with a grand, arched gate, also holding cymbals or drums. A celebratory event, such as a warrior's triumphant return home, may be represented here.

Built by the Assyrian king Ashurnasirpal II, the palaces and storerooms of Nimrud housed thousands of pieces of carved ivory. Most of the ivories served as furniture inlays or small precious objects such as boxes. While some of them were carved in the same style as the large Assyrian reliefs lining the walls of the Northwest Palace, the majority of the ivories display images and styles related to the arts of North Syria and the Phoenician city-states. Phoenician style ivories are distinguished by their use of imagery related to Egyptian art, such as sphinxes and figures wearing pharaonic crowns, and the use of elaborate carving techniques such as openwork and colored glass inlay. North Syrian style ivories tend to depict stockier figures in more dynamic compositions, carved as solid plaques with fewer added decorative elements. However, some pieces do not fit easily into any of these three styles. Most of the ivories were probably collected by the Assyrian kings as tribute from vassal states, and as booty from conquered enemies, while some may have been manufactured in workshops at Nimrud. The ivory tusks that provided the raw material for these objects were almost certainly from African elephants, imported from lands south of Egypt, although elephants did inhabit several river valleys in Syria until they were hunted to extinction by the end of the eighth century B.C.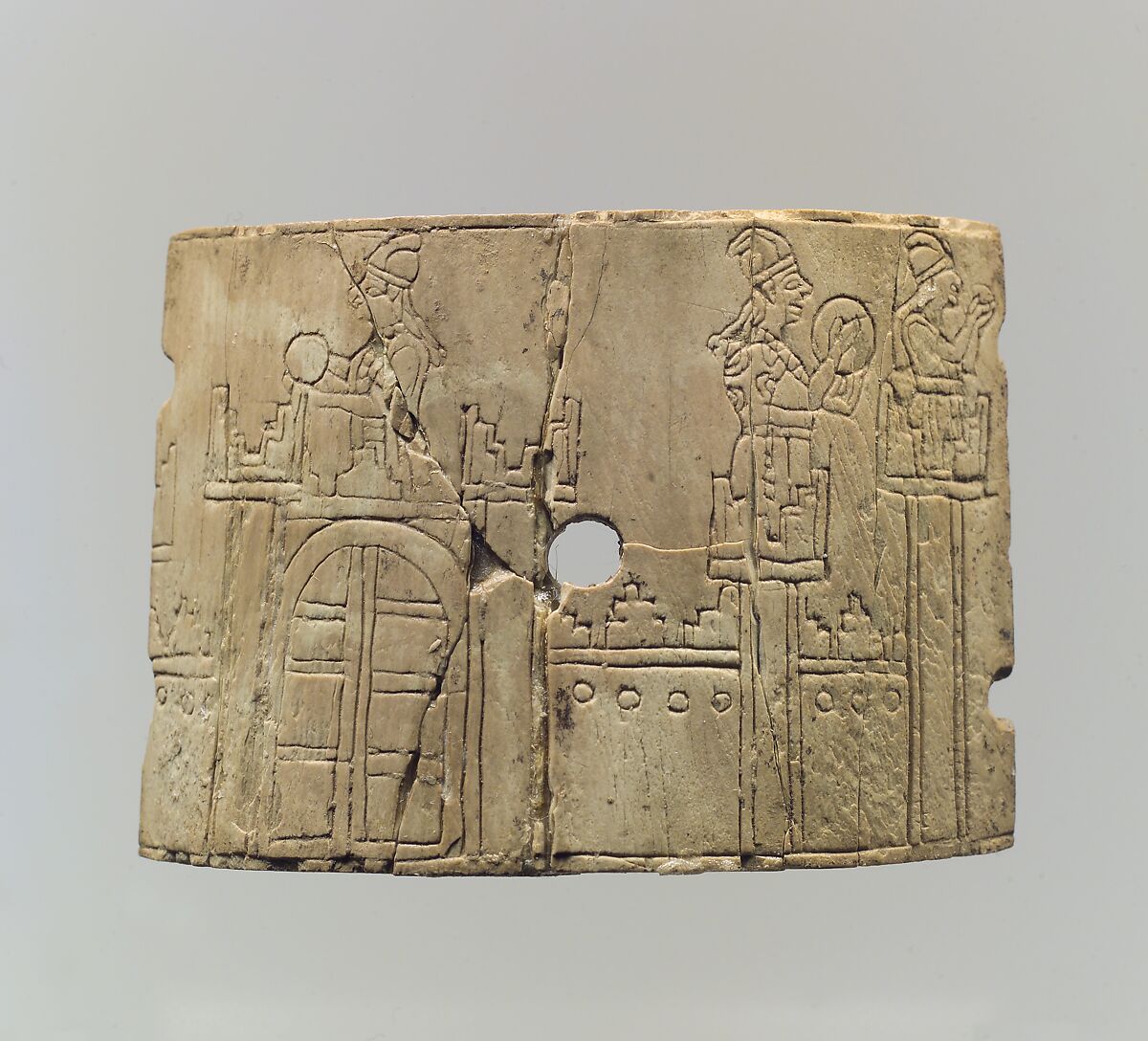 This artwork is meant to be viewed from right to left. Scroll left to view more.