Cylinder seal
Not on view
Although engraved stones had been used as early as the seventh millennium B.C. to stamp impressions in clay, the invention in the fourth millennium B.C. of carved cylinders that could be rolled over clay allowed the development of more complex seal designs. These cylinder seals, first used in Mesopotamia, served as a mark of ownership or identification. Seals were either impressed on lumps of clay that were used to close jars, doors, and baskets, or they were rolled onto clay tablets that recorded information about commercial or legal transactions. The seals were often made of precious stones. Protective properties may have been ascribed to both the material itself and the carved designs. Seals are important to the study of ancient Near Eastern art because many examples survive from every period and can, therefore, help to define chronological phases. Often preserving imagery no longer extant in any other medium, they serve as a visual chronicle of style and iconography. The modern impression of the seal is shown so that the entire design can be seen.

Several styles of seal-carving are known from the Kassite period. The so-called "First Kassite Style" hearkens back to the Old Babylonian presentation scene in which a worshipper appears before a king or deity, but is distinguished from this earlier style by lengthy inscriptions and abbreviated scenes with elongated figures. This milky chalcedony cylinder, carved with a single, bearded male figure wearing a rounded cap and a long fringed dress who stands before an eight-line hymn to the goddess Inanna, is a fine example of the First Kassite Style. The hymn beseeches the goddess to bless Nur-Shamash, in all aspects of civilized life (the "me" in Sumerian), for which she is responsible.

Kassite period artists often drew upon the rich historical traditions of Mesopotamia. In this case, the long-dead Sumerian language and archaic signs were used to write the inscription. The hymn identifies the goddess as "Inanna of Agade", a form of the goddess associated with the Akkadian kings who reigned ca. 2350-2150 B.C. The deep knowledge of the past exhibited in this and other works of the period demonstrate the interest of the non-Babylonian Kassite rulers in mastering the history and culture of Babylonia, already an ancient land.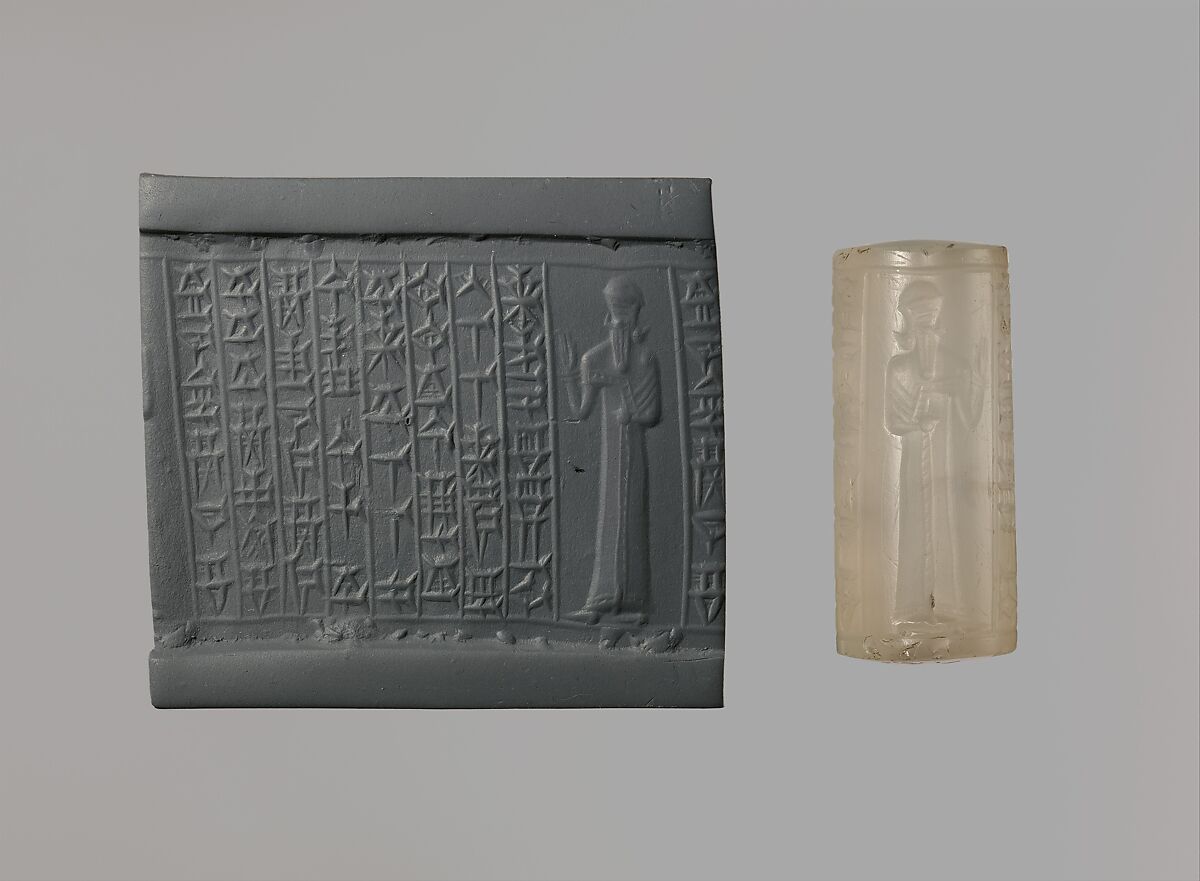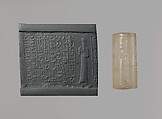 This artwork is meant to be viewed from right to left. Scroll left to view more.