On the Seventeenth Day
Calligrapher Wang Xizhi Chinese

Not on view
Most personal correspondence was written in an informal form of clerical script known as cursive clerical (caoli) or draft cursive (zhangcao). In this script type, which originated as an abbreviated form of writing used in drafting manuscripts, individual characters are simplified, with some brushstrokes omitted and others linked in fluid, continuous lines. By the fourth century, such informal writings by known authors, originally viewed as a heterodox debasement of the orthodox clerical manner, became cherished for their expressive individuality.

Original manuscripts by the "calligraphy sage" Wang Xizhi and other early masters were already rare in the early Tang dynasty (618-907), when a major effort to collect and authenticate Wang's writings was sponsored by the imperial court. To preserve and propagate these precious writing models, precise tracings were made, as were stone or wood-carved reproductions. Rubbings taken from the carved reproductions provided the principal means for students to acquire and study classical models.

On the Seventeenth Day is a selection of twenty-nine letters written by Wang Xizhi collected under the sponsorship of the Tang emperor Taizong (r. 627-49), a devoted student of Wang's writing style and the compiler of a comprehensive collection of Wang's surviving works. The title derives from the initial characters of the first letter. Extant rubbings of the manuscript date to the Song dynasty (960-1279) or later and vary tremendously in quality. The Song rubbings, of which several versions are known, were based in turn on Tang tracings or rubbings. The dominant type, such as this example, ends with the large imperial cipher qi ("imperial order") followed by a brief inscription stating that the emperor ordered the copy carved on stone as the official version of the Hongwen Academy.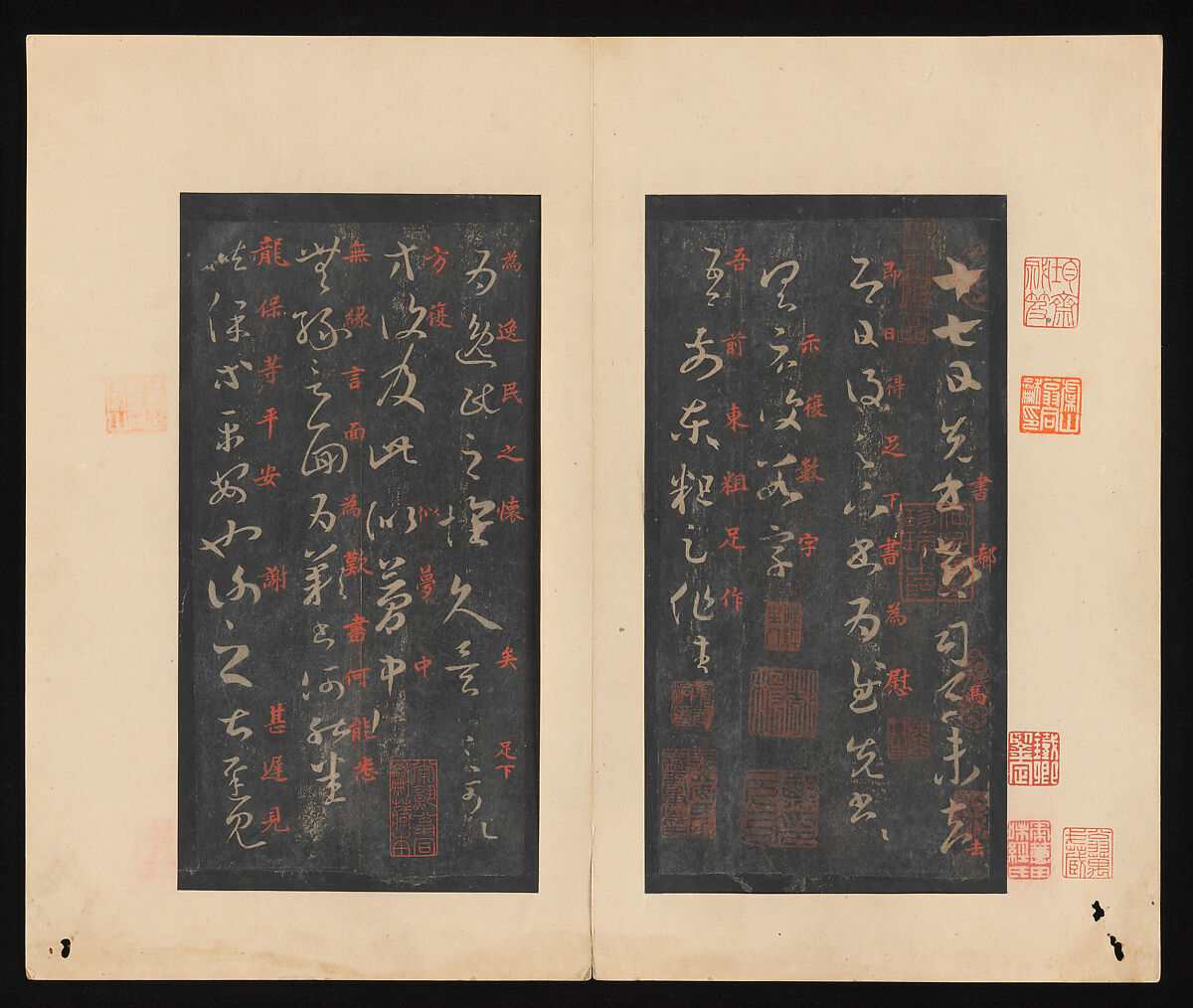 This artwork is meant to be viewed from right to left. Scroll left to view more.