Elegant Gathering in the Apricot Garden
After Xie Huan Chinese

Not on view
This handscroll is one of two similar compositions attributed to Xie Huan that document a gathering of nine scholar-officials in Beijing on April 6, 1437. The original composition, prepared for the party's host, Yang Rong (1371–1440), who is depicted wearing a red robe in the first group of seated figures, is now in the Zhenjiang Municipal Museum. This painting, probably made for the senior guest, Yang Shiqi (1365–1444), who is seated in a blue robe next to Yang Rong, is a condensed version executed by one of Xie Huan's associates. In spite of the apparent informality of the subject, the painting is carefully crafted to emphasize the power, prestige, and cultivation of the officials. The men's substantial robes and formal poses underscore the dignity of their positions, and their political ranks are distinguished by their placement in the composition. Those of the greatest status, Yang Shiqi and Yang Rong, are at the center of the composition; guests of lower rank are closer to the periphery of the scroll. The antiques and scholarly paraphernalia surrounding the men suggest their literary accomplishments and aesthetic discernment.

Following the painting are poems composed by the participants to commemorate the gathering, beginning with a preface inscribed in a dignified clerical script by Yang Shiqi, the oldest participant and the highest-ranking government official of his day. The Qing official and later owner of the scroll Weng Tonghe (1830–1904) inscribed the mounting in front of the painting with a listing of the nine officials.
#7580. Elegant Gathering in the Apricot Garden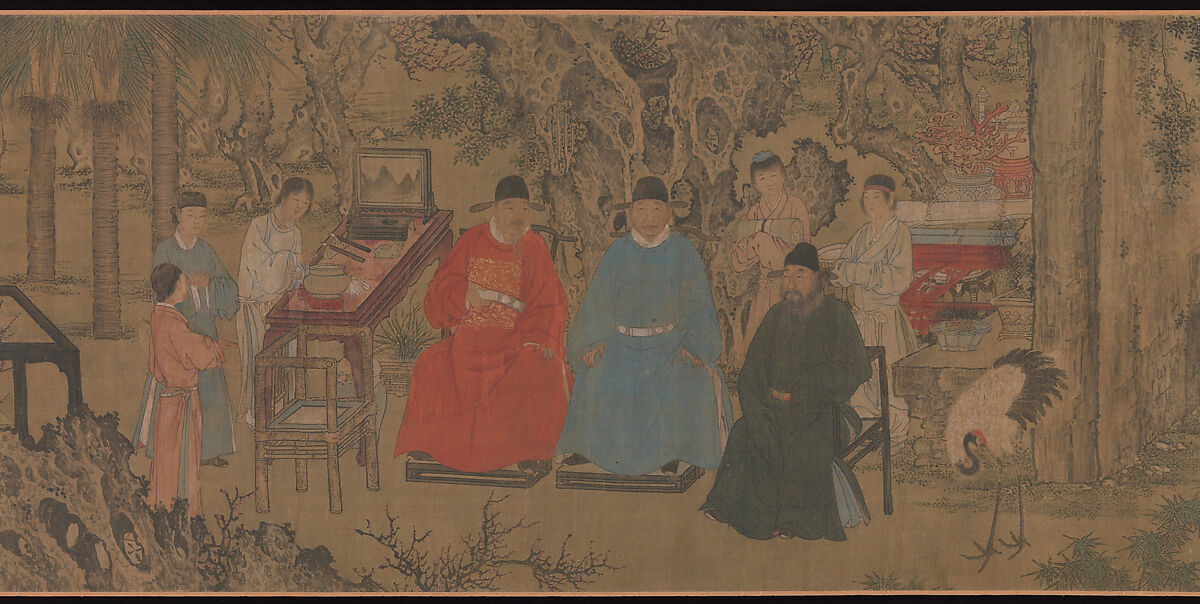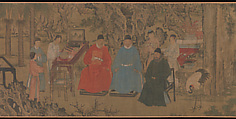 This artwork is meant to be viewed from right to left. Scroll left to view more.