"Dervish Leading a Bear", Folio from the Shah Jahan Album
Painting by Govardhan
Calligrapher Mir 'Ali Haravi

Not on view
This painting of a dervish reflects the Mughal interest in holy men. Prince Dara-Shikoh, Shah Jahan's eldest son, became a serious student of these spiritual beliefs and this painting was most likely executed under his patronage.

A dervish wearing a brown animal fur covering, earrings, bangles, an anklet leads a dark brown bear by a leash. The red earing and iron bangles are customary accessories worn by dervishes of the Qalandar and Haydari orders. His forearms and chest are dotted with markings, caused by self-inflicted burns. These marks, known as dagh (hot) in Persian, demonstrate faithfulness and love for God.

The scene suggests an allegory familiar to Sufis in which the higher self (here perhaps symbolized by the dervish) struggles to overcome his baser instincts (the bear). His burns, ragged garb, fasting, and wandering give him strength in this struggle.

The Shah Jahan Album, also known as the Emperor's Album, features fifty illustrated and calligraphic folios, forty-one of which belong to the Metropolitan Museum, and nine of which reside in the collection of the Freer Gallery of Art.

In lower part of second border around the portrait, Shah Jahan's handwriting identifies this as "Work of Govardhan."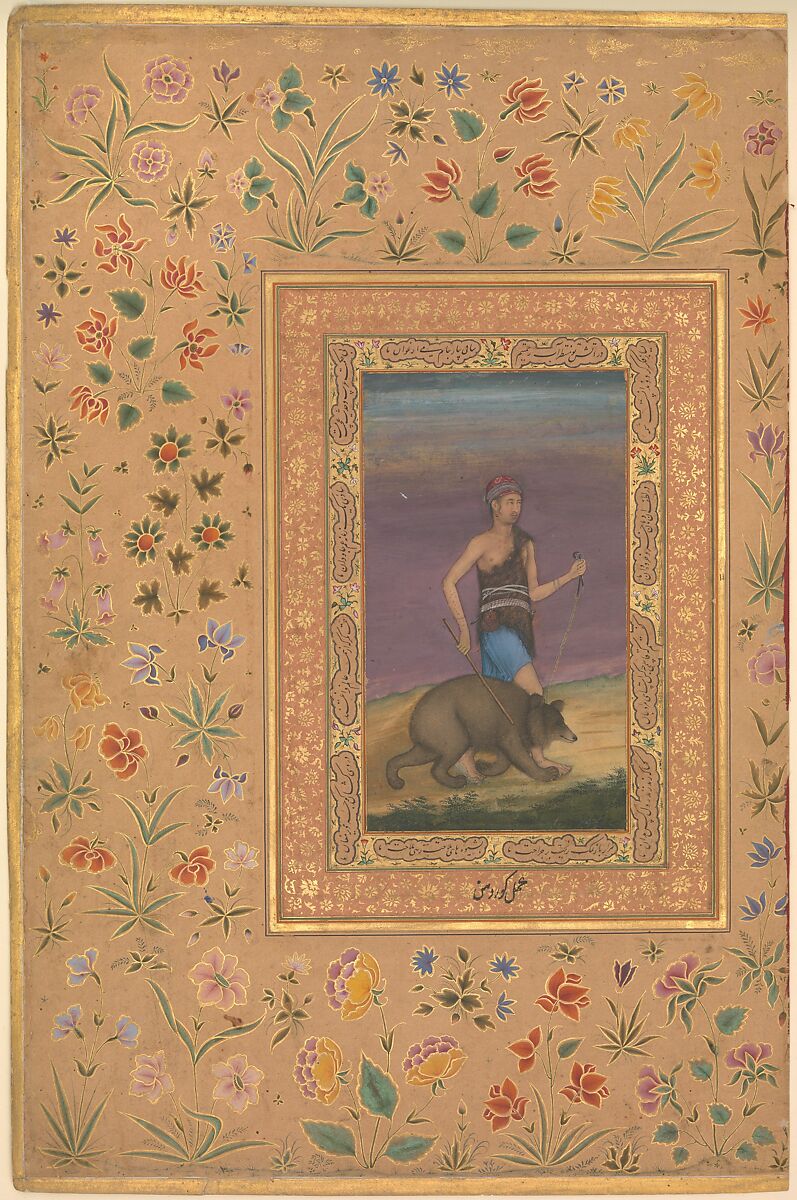 This artwork is meant to be viewed from right to left. Scroll left to view more.