Tagasode ("Whose Sleeves?")
Not on view
In classical love poetry the phrase Tagasode ("Whose Sleeves?") refers to an absent woman whose beautiful robes evoke memories of their owner. A number of screens bearing this sobriquet depict sumptuously patterned kimonos draped over lacquered clothing stands. This example displays fashionable textile patterns of the late sixteenth through early seventeenth century. Some of the robes have delicate tie-dyed patterns ("fawn spots," or kanoko shibori), representing the refinement of Kyoto taste. Beginning in the medieval period, Kyoto was known for its textile industry, centered in what is now the Nishijin district. Empress Consort Tōfukumon'in (1607–1678), wife of Emperor Go-Mizunoo (1596–1680), frequently ordered richly ornamented garments from Kariganeya, a textile shop catering to the old aristocracy, and her purchases initiated official imperial patronage of Kyoto textiles.

These screens were recently rebuilt and restored in the Department of Asian Art's conservation studio with funding from Patricia Saigo and others.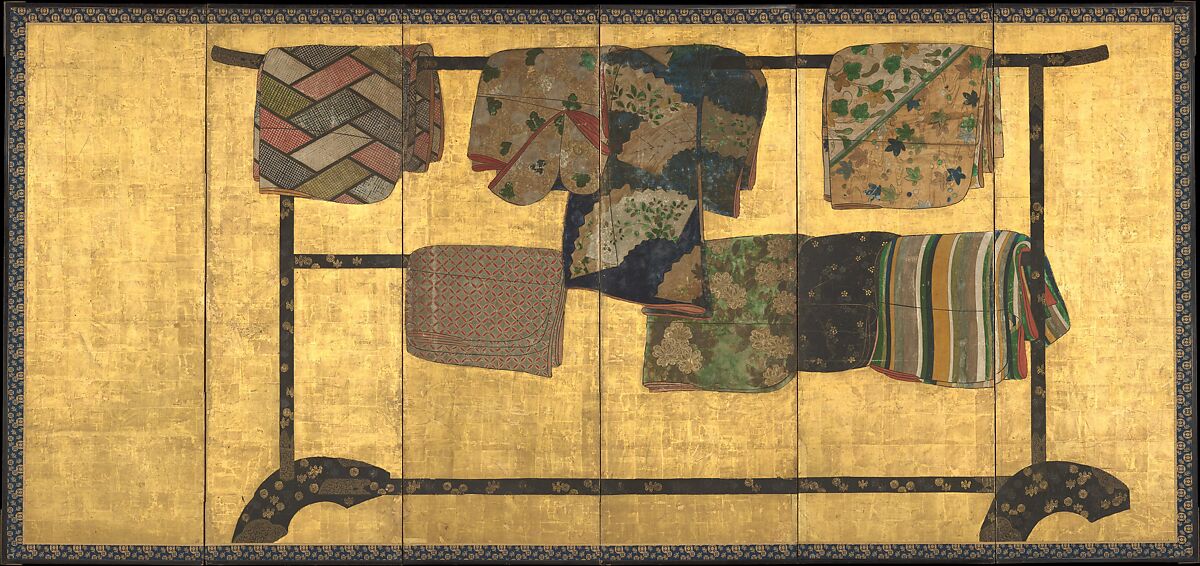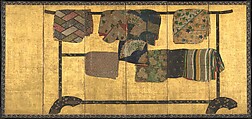 This artwork is meant to be viewed from right to left. Scroll left to view more.