"Channel Markers" (Miotsukushi)
Not on view
This section of a rare medieval polychrome handscroll illustrates a scene from "Channel Markers," Chapter 14 of the tale. Genji visits Sumiyoshi Shrine to thank the local deities for answering his prayers and allowing his safe return from exile at Suma. Without showing landscape background, the artist remains faithful to the author's description: "Genji had arranged for an escort of ten charming page boys, all the same height and outfitted in a most delightful style, their long hair bound in loops at their ears with thin white cords that had been dyed purple at the tips. All in all, they presented 
a vibrant, refined appearance that was strikingly modern."

Genji appears midway through the procession, partially concealed in his ox-driven carriage but with his face visible through the window.

Genji writes to the Akashi Lady:

みをつくし恋ふるしるしにここまでも
めぐりあひけるえにはふかしな

The channel markers show
how far love has taken us,
and how I've given fully of myself
since fate brought us together
because of our deep karmic ties.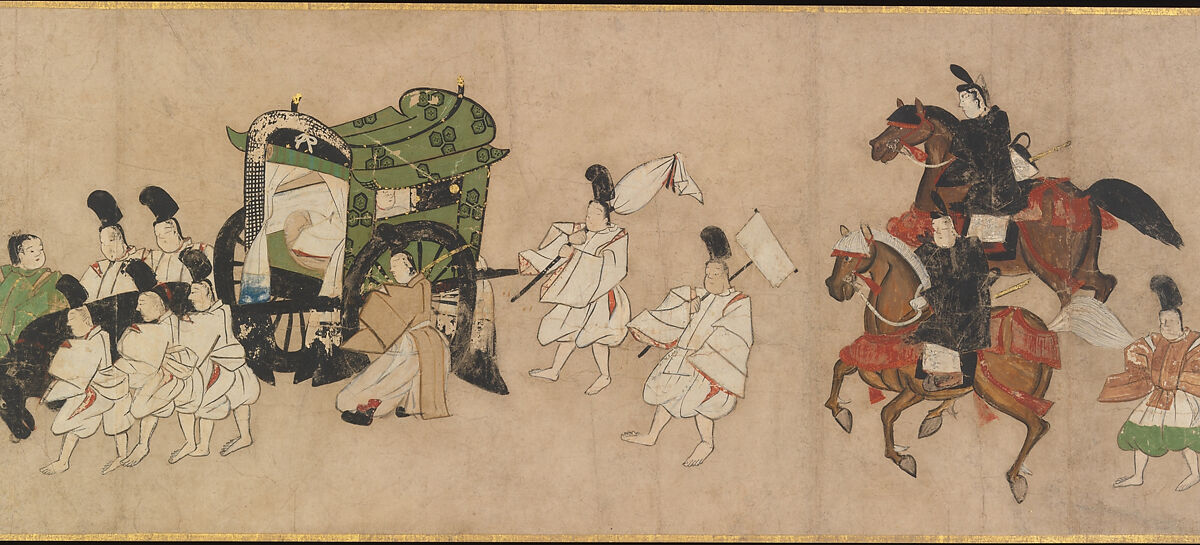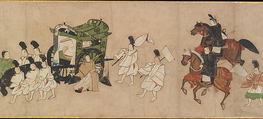 This artwork is meant to be viewed from right to left. Scroll left to view more.