Fork
On view at The Met Fifth Avenue in Gallery 307
An eleventh-century manuscript now in the Biblioteca dell'Abbazia, Montecassino, depicts two men at a table, using two-pronged forks to assist in carving and eating. This practice was extremely rare, although a letter written by Peter Damiano (circa 1070-1072) mentions that the Byzantine wife of the doge of Venice refused to follow the Western custom of eating with her fingers and insisted that she be allowed to use a two-pronged fork. It seems, then, that the custom of using forks came from Byzantium, and that is was introduced into Western Europe by the Venetians. The cookery of the day, consisting in large part of stews, called mortrews, pottages, and broths, really did not require the use of a fork for eating. The widespread acceptance of the fork as an eating utensil is definitely post-medieval. Introduced into France soon after 1553, when Catherine de'Medici married the future Henry II, the fork was only really accepted in England in the seventeenth century.

Although extremely rare throughout the thirteenth century, early references to forks do exist. A furchetto de cristallo, for example, is mentioned in an inventory of circa 1300 of Edward I. Fourteenth-century references become more frequent, but evidently refer almost exclusively to small forks for the purpose of eating fruit, especially blackberries, which is eaten with the fingers left them badly stained, or for serving sweetmeats or ginger.

Exactly when larger forks became more common cannot be determined precisely, but they were initially intended only to facilitate the carving or serving of meat as indicated by the sixteenth-century inventory list which mentions 12 knives and a single fork. Although the present form must have been matched with a knife, if was probably not part of a larger set than 12 knives as this combination only became popular later.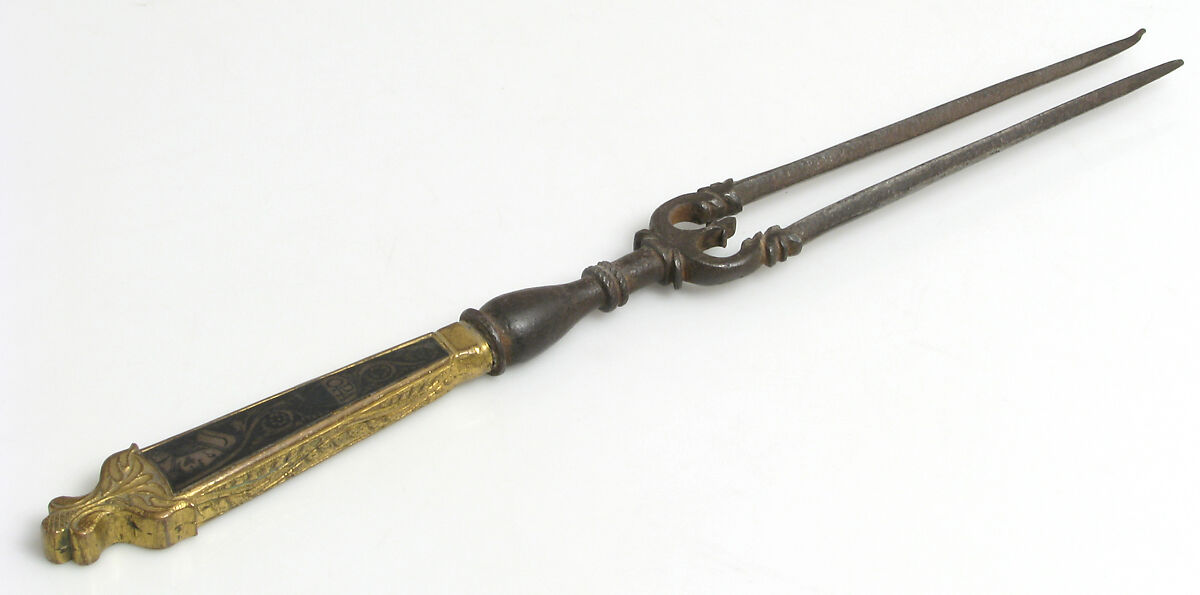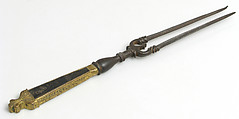 This artwork is meant to be viewed from right to left. Scroll left to view more.