Dish with Abraham and Melchizedek
Hans of Landshut German

On view at The Met Cloisters in Gallery 14
At the center of this complex scene, the patriarch Abraham, fresh from victorious battle, meets the king and high priest Melchizedek, who at once gives him bread and wine, blesses him, and takes a tenth of Abraham's loot. Because Melchizedek is dressed as a bishop and his offering takes the form of a Christian chalice and paten, the plate for the bread consecrated at the Mass, the scene was interpreted as an exemplum of sacrifice and redemption, foreshadowing Jesus' death on the cross for the salvation of mankind. This suggests that the glass dish served as a paten. At the top of each lantern flanking the openwork frame is a lion holding a staff with a pennant and supporting a shield; the one on the left bears the arms of the city of Freising, and the one on the right those of its Bishopric. However, it is Landshut, a town in southern Germany, that is represented in the background. A document in the archives of Freising cathedral states that a glass dish was painted by a Hans of Landshut. The S-shaped banderole at the base of the left column is inscribed "1[4]" and its counterpart on the right "9 8," indicating the date of 1498. The complex application of pigments, colored glazes, and metallic foils to the outside of the glass vessel—in the reverse order of panel painting—is unprecedented at this early date.
#139. Paten with Abraham and Melchizedek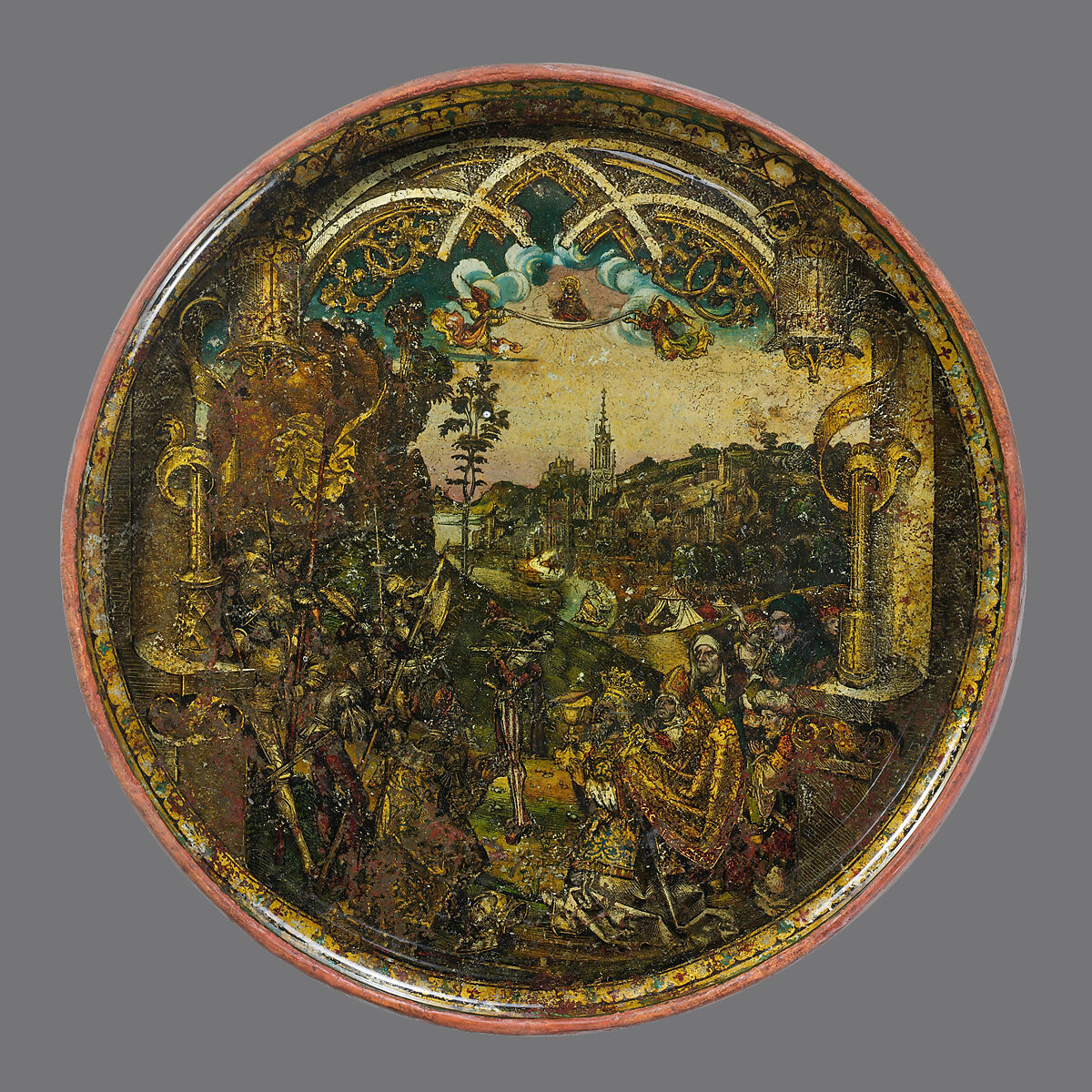 This artwork is meant to be viewed from right to left. Scroll left to view more.