Self-Portrait Looking at The Last Supper
Marisol American, born France

Not on view
Created nearly five hundred years after Leonardo da Vinci's mural painting, The Last Supper (ca. 1495–98), Marisol's Self-Portrait Looking at The Last Supper combines defining elements of her artistic practice—found materials, art historical subjects, popular culture, satire, and self-portraiture—into one ambitious monumental sculptural piece.


For her installation, Marisol translated the dimensions and illusionistic perspective of the Renaissance masterpiece into three-dimensional form. Long interested in Italian Renaissance painting and Leonardo's work in particular, Marisol faithfully recreated the final meal that, in the biblical account, Christ shared with his apostles in Jerusalem before his crucifixion, depicting each disciple's reaction to Christ's pronouncement that one among them would betray him. Christ's physical solidity and ashen, serene appearance contrasts with the darkened, twisted figure of Judas (fourth from the left) and the flat, painted depictions of the other disciples, punctuating the scene's psychological drama. The ambiguities between reality and illusion, volume and flatness played out in Leonardo's fresco resonate in Marisol's reconstruction, where the seated figures are neither fully rounded nor consistently flat, causing the viewer's perception to shift between two and three dimensions. Marisol chiseled the central figure of Christ from a block of a salvaged New York City brownstone and assembled the rest from a range of materials including wood, plywood, plaster, and aluminum.


Unlike Leonardo's painting, placed on a high wall of the refectory of the Convent of Santa Maria delle Grazie in Milan, Marisol's Last Supper appears at the viewer's eye level, underscoring the observer's action of looking as akin to that of the artist herself, who is also present in sculptural form facing the scriptural scene from across the room. Her seated self-portrait shares visual affinities with the stocky, rounded forms of ancient American sculpture, a tradition that strongly influenced Marisol's artistic practice. Notably, her choice of Leonardo's Last Supper, one of the most recognizable—and most replicated, often satirized— paintings in the history of art, demonstrates the artist's interest in addressing and reinterpreting characters of historical and cultural resonance as well as her intellectual alignment with the Pop art movement.


Born Maria Sol Escobar in France to Venezuelan parents, Marisol grew up between America and Europe. Following her first solo exhibition at the Leo Castelli Gallery in 1957, she became a prominent figure within the New York art milieu of the 1960s. Although she is often associated with Andy Warhol and Pop art, her work does not fit comfortably into a single category. She is considered a pioneer feminist artist.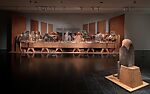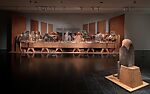 This artwork is meant to be viewed from right to left. Scroll left to view more.