Three Men Walking II
Alberto Giacometti Swiss

Not on view
Giacometti was born into a Swiss family of artists. His early work was informed by Surrealism and Cubism, but in 1947 he settled into producing the kind of expressionist sculpture for which he is best known. His characteristic figures are extremely thin and attenuated, stretched vertically until they are mere wisps of the human form. Almost without volume or mass (although anchored with swollen, oversize feet), these skeletal forms appear weightless and remote. Their eerie otherworldliness is accentuated by the matte shades of gray and beige paint, sometimes accented with touches of pink or blue, that the artist applied over the brown patina of the metal. The rough, eroded, heavily worked surfaces of Three Men Walking II typify his technique. Reduced, as they are, to their very core, these figures evoke lone trees in winter that have lost their foliage. Within this style, Giacometti would rarely deviate from the three themes that preoccupied him—the walking man; the standing, nude woman; and the bust—or all three, combined in various groupings.

Giacometti's work can be seen to balance the concerns of the modern and the historical as well as the specific and the universal. While many have viewed his sculptures as emblematic of the horrors of World War II or representative of the alienation of modern urban life, his figures also contain specific allusions to ancient Egyptian burial figures and to early Greek korai. At the same time, the fragile figures are universalized, their tentative movements expressive of an essential human condition. In this work, the figures take wide steps, each in a different direction. The empty space around them acts as an obstacle to communication. They stride along, each untouched by another, alienated by the void that surrounds them.
#1925. Three Men Walking II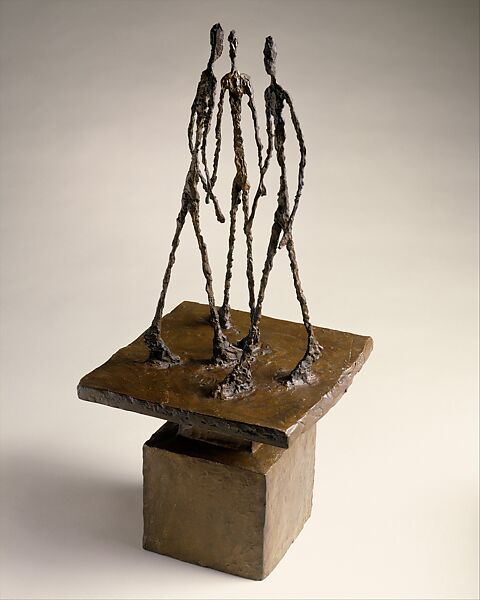 This artwork is meant to be viewed from right to left. Scroll left to view more.