Memorial Figure of a Hornblower (Mma)
Not on view
This clay figure of a court musician was created to accompany a funerary portrait of an Akan ruler from what is presently southern Ghana or southeastern Côte d'Ivoire. When a ruler died, a memorial sculpture was created in his likeness and brought to the cemetery in which he was buried. It was left there with images created for previous generations of rulers, forming a display that was the focus of annual rites celebrating the memory of the royal ancestors. Sculptures of servants and courtiers such as this one were also left near the burial site, where they served to comfort and support the deceased in the afterlife.

The unusual brimmed hat may indicate the courtly status of this royal servant. His striated neck suggests health and well-being, while the raised marks on his cheeks, temples, and forehead are skin embellishments that denote ethnic affiliation. His two arms raise a cylindrical flute to his lips. The work's somewhat abstracted form is quite expressive, as the backward tilt of the head and slitted eyes suggest a deep absorption in this creative act.

Exhibitions
"Heroic Africans: Legendary Leaders, Iconic Sculptures." The Metropolitan Museum of Art, New York, 9/20/2011–1/29/2012; Rietberg Museum, Zurich, 2/26–6/3/2012; catalogue no. 99, p. 111.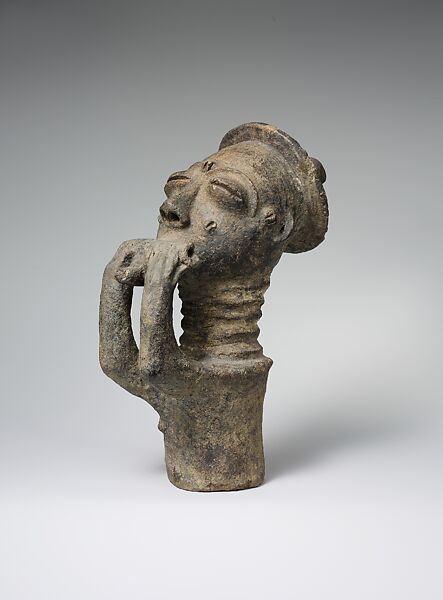 This artwork is meant to be viewed from right to left. Scroll left to view more.