The Bottle
Juan Gris Spanish

Not on view
For about eight months in 1914, Gris devoted himself almost exclusively to the hybrid medium of papier collé, creating over forty compositions that mix drawing materials and everyday papers with paint on canvas. The Met has a number of these works in its holdings, including this one from the landmark gift of the Leonard A. Lauder Cubist Collection. If the newspaper elements used in the works are a key to his production, Gris likely made them in the spring, before he left Paris for the summer in Collioure. Together, they offer an extraordinary window into the Cubist invention of papier collé as well as Gris's great skill and wit. Gris's papiers collés of 1914 have been lauded by Cubist scholar John Golding, who wrote that they "represent the climax of Gris's exploration of the intellectual possibilities of Cubism and of the new techniques it has introduced."

Papier collé, a method of adhering diverse paper elements in a composition to upend the tradition of painted representation, was a Cubist technique invented in 1912 by Georges Braque and Pablo Picasso. Initially, Gris only made occasional use of papier collé, but it was he who first exhibited a papier collé composition (The Washstand, 1912, private collection), at the 1912 Section d'Or exhibition at the Galerie la Boétie, Paris, where he received great critical attention for the "curious originality of [his] imagination."

Unlike those of Braque and Picasso, whose papiers collés are typically spare and resistant to reading, Gris's works are closer to paintings, their entire surfaces covered with paper and paint. He carefully planned his compositions, building them with cut, matched, and layered pieces of paper—some plain, some pages of journals, some wallpapers with imitation surfaces—and then outlined, shaded, and highlighted forms, bringing all the elements into synthetic wholes. Often, such works also draw upon the tradition of trompe l'oeil ("deceive the eye") painting. They question the nature of representation through perceptual and psychological games that complicate truth and fiction. Attentive to the iconic properties of his materials, Gris delighted in such visual puns. His papier collé compositions—with their unique opportunity for pictorial rhyming, optical trickery, and potential misreading—bear witness to his artistic humor.

This collage was made on a page from Le Journal, traces of which can be read below the surface of the white paint in the upper right corner. With its strong diagonal orientation and reduced palette, The Bottle recalls Gris's Analytic Cubist works of 1911–12, compositions in which individual objects are subsumed within a rigid geometric structure and color harmony. The Bottle's especially complex composition was made at a critical moment when Gris sought greater "unity" or compression in his papier collés. Here, the graining on pieces of faux bois (fake wood) are carefully matched to appear as one piece; individual elements are tipped and doubled; contours are shared between objects; and articles (like the pipe at the bottom right) are legible only in the negative space between papers.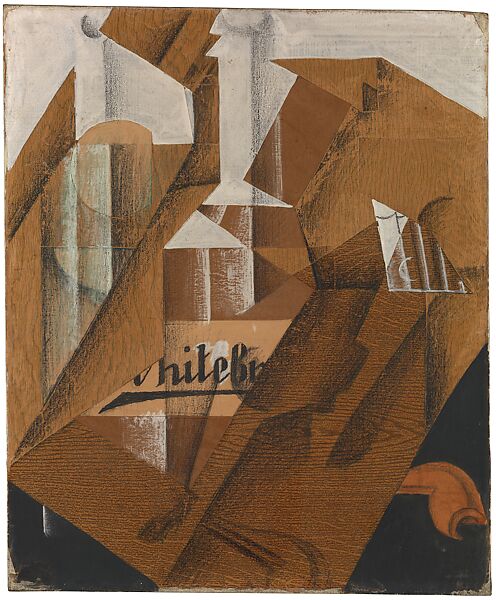 This artwork is meant to be viewed from right to left. Scroll left to view more.