Mandora
Not on view
This is the most elegant example of three extant small European stringed instruments dated to the early fifteenth century. Originally the instrument would have been strung with five gut strings, but whether it was played with a bow or plucked with a plectrum or fingers, remains unclear. The carved imagery relates to courtly romance and probably alludes to the rewards of fidelity in love. Cupid, armed with bow and arrow, hovers over the couple, a young man represented as falconer (the falcon denotes loyalty and trust) and a maiden with unbound hair who clasps his arm. A dog, likewise suggesting loyalty, sits at their feet. The rich iconography of the instrument unites art and music in the service of romance.

Description:

Cut from slab sawn block of boxwood; interior entirely gouged out from front to a maximum depth of about 15 mm; dark brown surface richly incised; flat rosewood fingerboard 1 mm thick (not original) covers neck cavity; connected body cavity partly enclosed by flat boxwood plate overlapped at top by concave end of fingerboard; four shallow circular depressions, formerly inlaid, surround slightly concave, pierced spruce (?) rosette reinforced beneath by 4 transverse ribs partly occluding scrollwork, 3 other ribs bracing the front; separate rougher slab covers lower, narrower part of soundbox, possibly replacing original membrane; strings fastened through 5 holes that pierce rounded end of soundbox to intersect five holes drilled into the tail, pass over ebony nut (not original) and around tuning pegs (missing) inserted laterally through pairs of reamed holes in sickle-shaped pegbox which terminates in carved figurehead of cross-legged woman playing a pear-shaped 4-string instrument with a plectrum grasped in her right hand; back carved with figures of woman and dog and man with hawk posed beneath Tree of Life with Cupid; leaping stag carved on bottom end of instrument; grotesque beast carved on back of pegbox above figure with scroll and raised hand; rear of tapered neck carved with leaves and veins in low relief.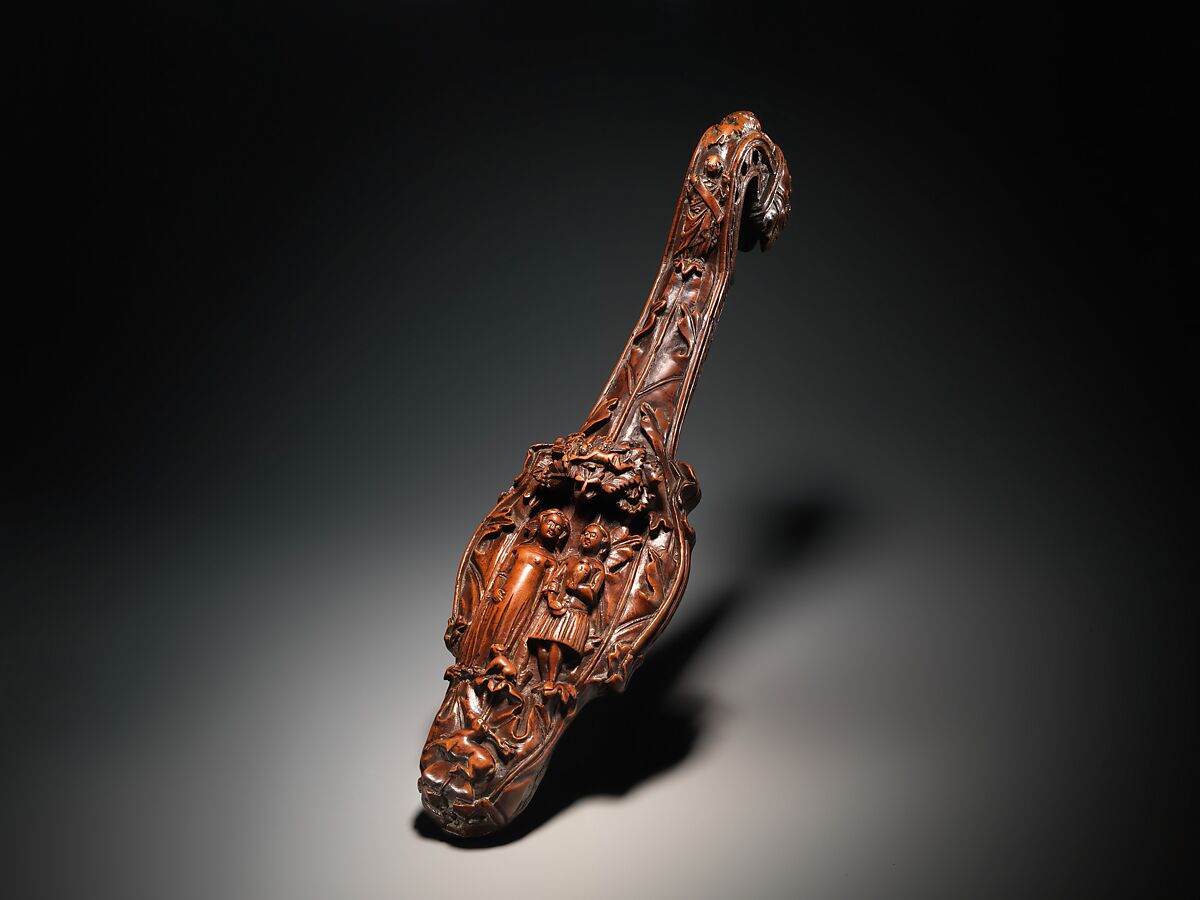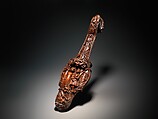 This artwork is meant to be viewed from right to left. Scroll left to view more.