Regal
possibly Georg Voll German

Not on view
The regal is a small pipe organ with a single rank of pipes. Inside each pipe is a thin brass tongue (or reed) that produced a loud, nasal sound when air is pushed through the pipe. Although the pipes function as resonators, because on a regal they are very short they do little to moderate the reeds' aggressive tone. Usually used as a continuo instrument, the regal's louder tone made it of use in larger groups of musicians than a more typical chamber organ. Composers occasionally specified it, as Monteverdid did in Orfeo, for his scenes of the underworld.

This example follows an innovative design by the sixteenth-century Nuremberg instrument maker Georg Voll, with a keyboard that can be stored inside the bellows for easy transport. It requires two people to play, one person to play the keyboard and a second person to stand at the rear of the instrument and pump the two bellows that supply air to the pipes.


Technical description: An oblong case of painted wood in two parts, each of which contains a bellows. When the instrument is in use these bellows are fitted to the back of the keyboard, and by lifting them alternately wind is supplied to a set of small metal pipes fitted with beating reeds placed immediately behind the keys. The interior of the case is lined with illuminated manuscript and a label bearing an inscription. The keys are light wood naturals with black sharps. When the instrument is closed the keyboard is placed between the bellows, which form the case. The original decorations of the case, which have been partially destroyed by several coats of paint, consisted of a monogram, in which the letters V. G. are distinguishable, surmounted by a coronet, a horn of plenty on either side. Compass, three octaves and a third, F - A.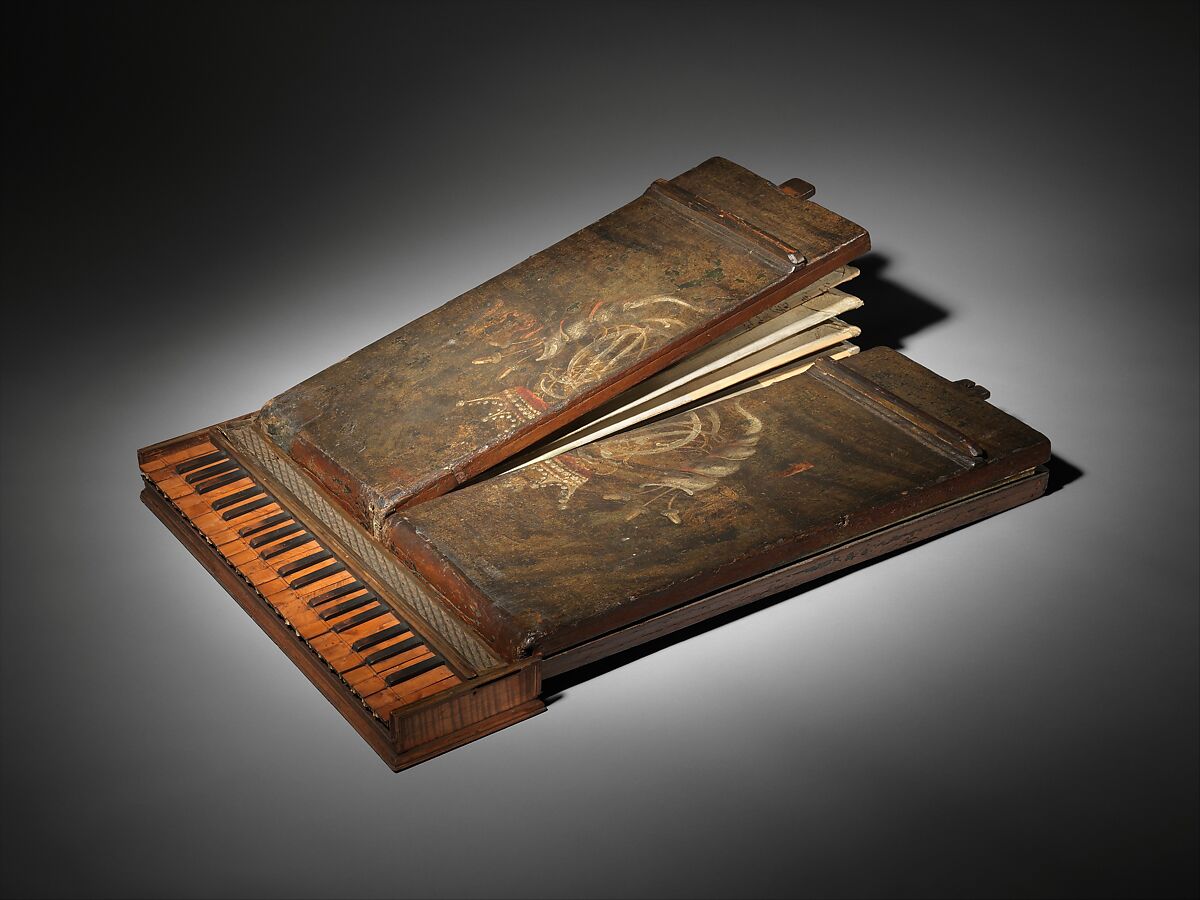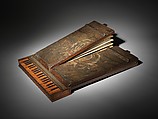 This artwork is meant to be viewed from right to left. Scroll left to view more.