Bowed Mandolin
Joseph Collingwood American
Patentee Herman J. Weckwerth

Not on view
Herman J. Weckwerth of Germania, Wisconsin filed a patent on May 18, 1899 for an unusual mandolin body, which was granted to him on June 27 of the same year. The patent specifices that it is for the design of a mandolin body and shows a drawing of an instrument shaped like the example at The Met. The instrument has four double-courses of strings and a cross-section on the patent reveals a slightly arched top and back. As such, the Weckwerth patent would seem to related to other mandolin designs from the period such as Orville Gibson's archtop mandolin patent of 1898 (see Met number 2015.643a, b, c) and George Contal's Arnola (violaline) patented in France in 1900 (see Met number 2018.869a, b).

However, the Weckwerth instrument at the museum is set up with a high arched bridge, an arched fingerboard, and a padding like a chinrest on the tailpiece. Further, inside the instrument there is a soundpost and a bass bar. These features indicate the museum's instrument was set up to bow like a violin, rather than pluck like a mandolin. The bowed-mandolin was built for Weckwerth by the highly regarded violin maker Joseph Collingwood of Ottumwa, Iowa.


Description: Lozenge-shape body with lower end (tail) squared off; arched front (pine) and back; two D-shaped soundholes flaking a crude, high violin-type movable bridge with blocks added under the feet; ebony fingerboard (unfretted) extending above top from an angled violin-type neck terminating in a flat tuning head with geared machine pegs; four pairs of wire strings (lowest two pairs overwound) attached to a wide metal tailpiece that also holds a velvet-covered chinrest; violin-type bass bar and sound post within; dark brown varnish.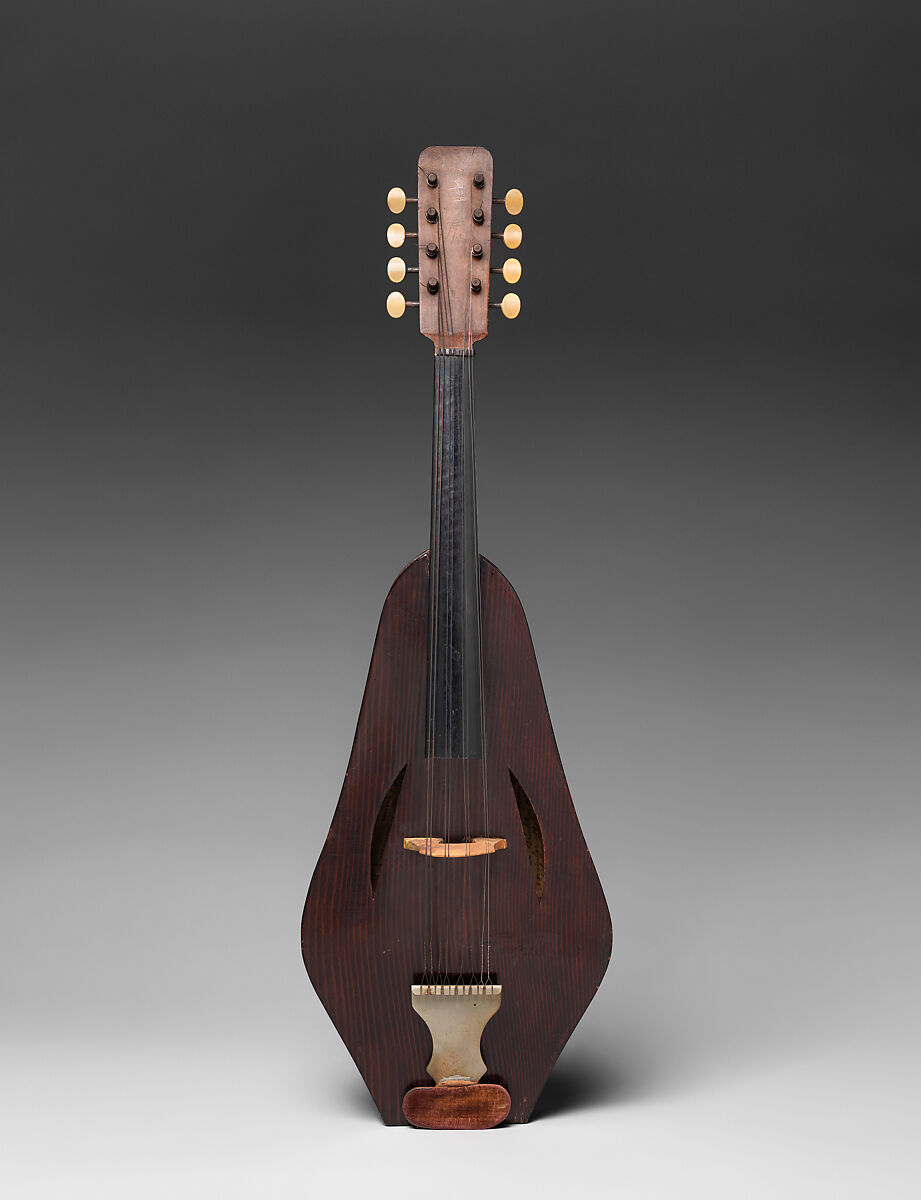 This artwork is meant to be viewed from right to left. Scroll left to view more.