Mandolin
Orville Gibson American

On view at The Met Fifth Avenue in Gallery 684
Orville Gibson is one of the most important makers and innovators of fretted stringed instruments. He is credited with the invention of the archtop guitar and mandolin, which both take construction elements from the violin. This mandolin is a rare surviving instrument by Orville Gibson and features a design consistent with his 1898 patent mandolin drawings. This includes a carved top and back with a floating bridge and tailpiece. The mandolin's sides, neck, and headstock are made from a single piece of walnut that is carved into the final form. The back is also a carved piece of walnut that is convex. The top (soundboard) is made of spruce and also carved into a convex shape and has a large oval soundhole. Another element of the Gibson patent, and present on this instrument, is that the neck is hollow and meant to extend the resonant sound chamber of the instrument.
The instrument is shaped like a teardrop, a design that would later become known as a Model A mandolin. The instrument is covered with a dark finish, which was probably applied in the 1970s when the instrument was sent to the Gibson Company for restoration (at that time the bridge and tailpiece were also replaced). The headstock is Orville Gibson's distinct "paddle-head" and is inlaid with a mother-of-pearl five pointed star and crescent, a motif common on his instruments and that may be a masonic reference. The soundhole is ringed by wood herringbone inlay, below which is an inlaid pickguard featuring a large mother-of-pearl and abalone butterfly. Orville's mandolin design has the Neapolitan disposition of eight strings in four double courses. The ebony fingerboard is glued to the neck and has eighteen metal frets with mother-of-pearl position markers behind the 5th, 7th, 10th, 12th, and 15th frets. The tuners and nut are of bone and the bridge is of ebony.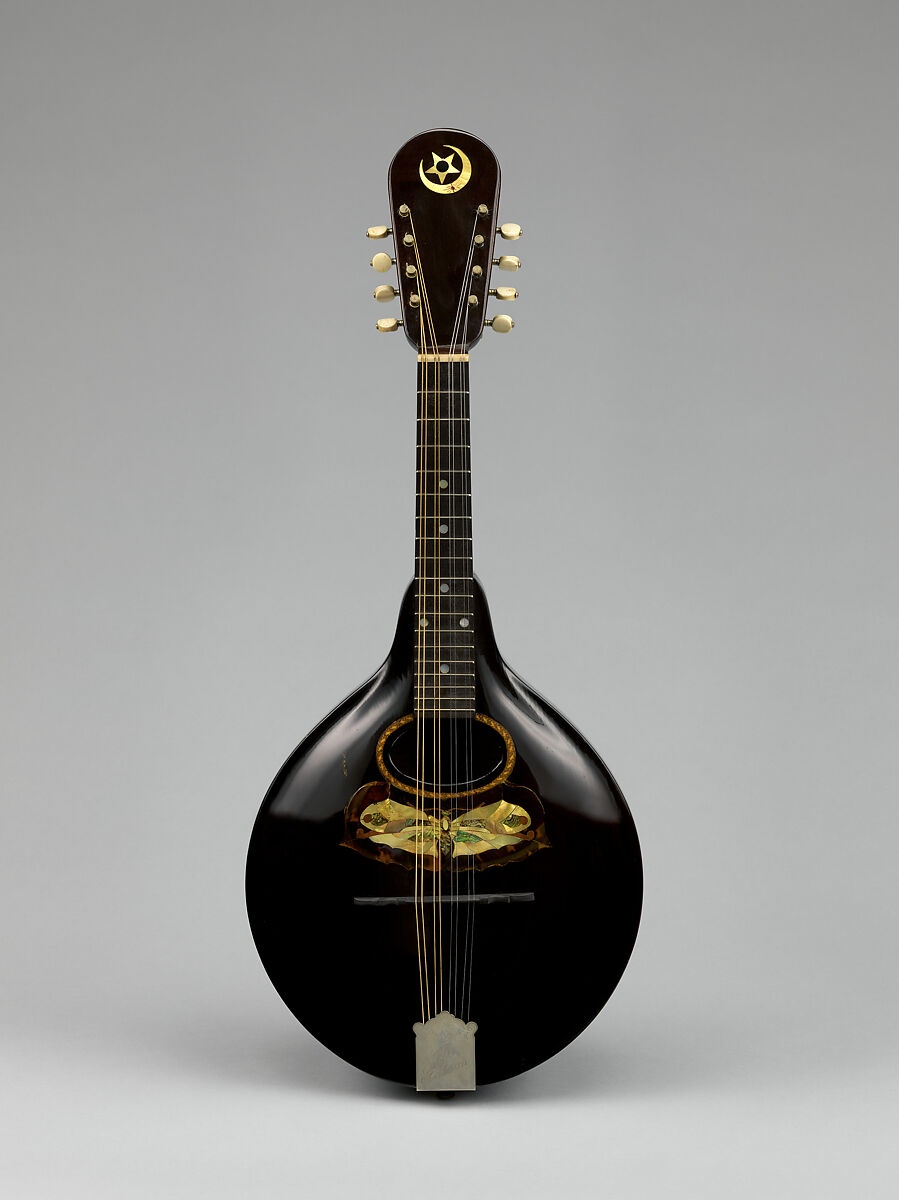 This artwork is meant to be viewed from right to left. Scroll left to view more.