Mandolino
Not on view
This typical Roman mandolin, with six double courses of gut strings, thirteen alternating ribs of ebony and ivory with floral engravings, and a sickle-shaped peg box, is shown with its carrying box. It is the type of mandolin for which Antonio Vivaldi wrote his numerous mandolin concerti. The double eagle in the rose is most likely refers to the German Tieffenbruckers in Venice and Padua. Magno Tieffenbrucker (1500–1560) used this type of eagle to mark his lutes in Venice, where he owned a house called "L'aquila nera." The instrument was probably not made by a member of the famed Tieffenbrucker family, but by a maker following the tradition of their lute production, removed from their centers of Venice and Padua. Indicating a long playing life, the fingerboard was widened in the eighteenth century in order to accomodate its current six courses from its original construction with five courses. The instrument is similar to mandolins by Giovanni Francesco Smorsone found in Berlin and Rome.

Technical description: Teardrop shaped body with two-part spruce top and rose with a double eagle; ebony neck inlaid lengthwise with two rectangular ivory plaques bordered with mother-of-pearl dots, plaques once engraved; curvilinear pegbox terminating with sickle-shaped finial with mother-of-pearl inlay bordered by ivory, the back of the pegbox of rosewood veneer with mother-of-pearl inlaid dots and hearts; oval boxwood pegs; six courses (five double courses and one single course in the treble); ivory and rosewood bridge; bowl made of thirteen alternating ribs of rosewood and engraved ivory with ebony borders; alternating pattern continues in veneer on underside of neck and peg box; original, form fitted leather covered wood case (only leather on lid remains)l lid with embossed and gilded cartouches filled with lattice-like cross-hatching.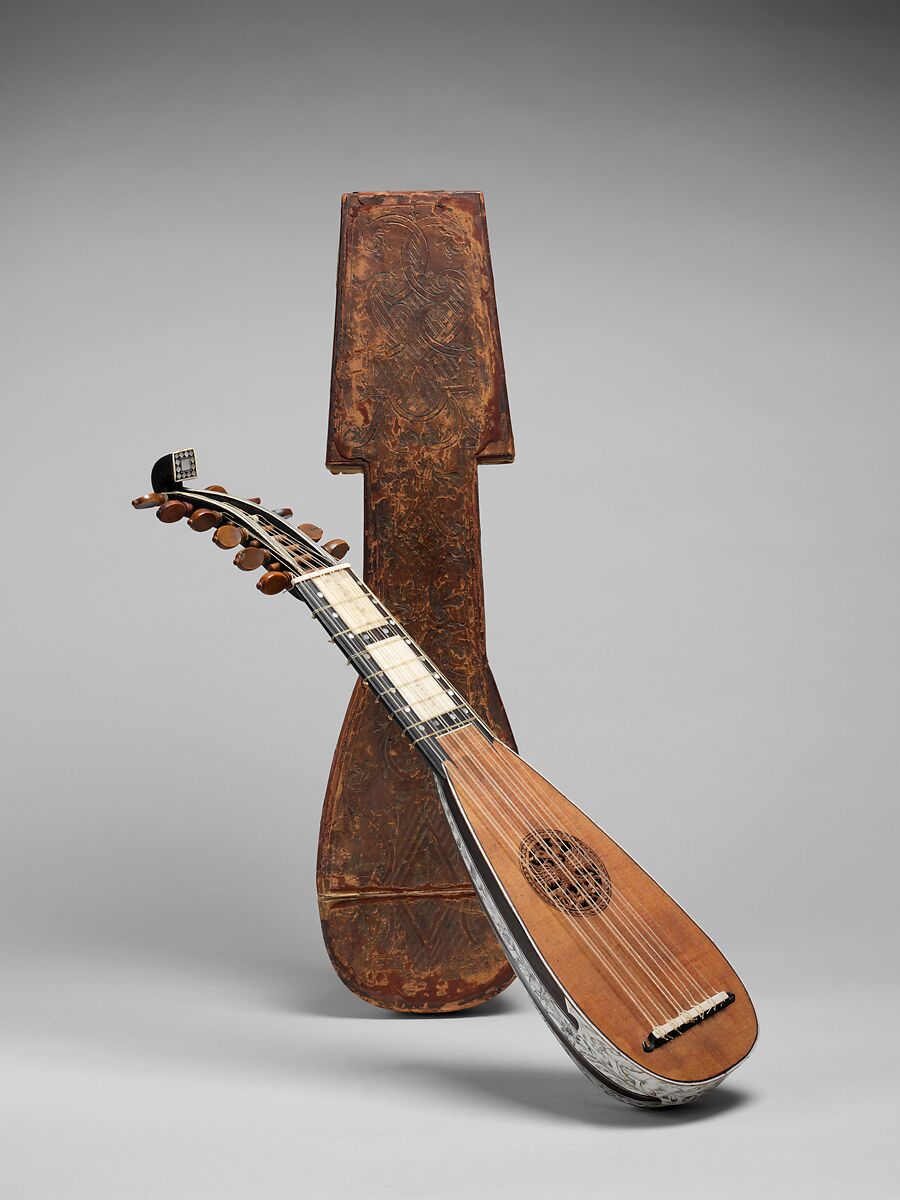 This artwork is meant to be viewed from right to left. Scroll left to view more.