Gulgul
On view at The Met Fifth Avenue in Gallery 684
Slit gongs, hollow percussion instruments with a central resonating chamber whose only opening is a narrow slit the edges of which are struck to produce drum-like sounds, occur in a variety of forms in Island Southeast Asia. Smaller types, made from wood or bamboo, are frequently played as part of musical ensembles. By contrast, larger slit gongs, often made in pairs, such as these imposing examples from the Island of Madura, were predominantly used as signaling devices. Set up under a shelter in the village, they were sounded with wood beaters to announce important events. While some large slit gongs were suspended from lugs at the top, the pair seen here were probably freestanding. On Madura, large slit gongs were used to warn the community of natural disasters, crime, and other significant incidents. They were also reportedly rung, like Western church bells, to mark the passage of time. During the night the large gongs were sounded hourly and certain households would beat smaller slit gongs in response as part of a rotating system that kept watch over the village.

Like many Indonesian instruments, slit gongs are often ornately carved. These exampes depict naga, supernatural creatures that combine the features of dragons and snakes, together with floral and other motifs. Each of the nagas clasps a dog-like animal in its constricting coils, perhaps illustrating an episode from a local oral tradition or simply emphasizing the dangerous nature of these snake-like beings.

This instrument is part of a pair along with accession number 2009.431.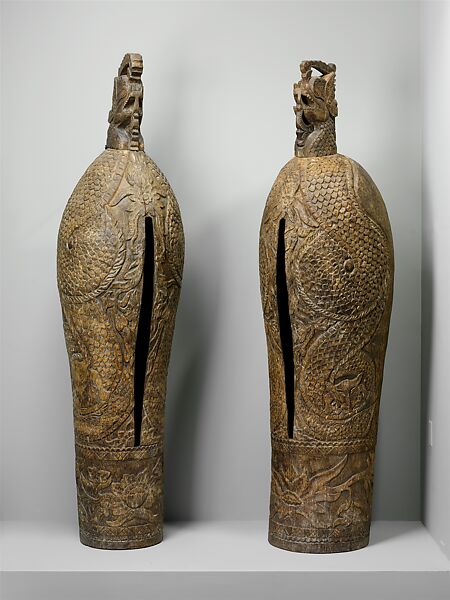 This artwork is meant to be viewed from right to left. Scroll left to view more.