Nebamun Supervising Estate Activities, Tomb of Nebamun
Twentieth Century; original New Kingdom
On view at The Met Fifth Avenue in Gallery 135
This facsimile copies a wall painting from the tomb of a man named Nebamun who lived in the middle of Egypt's Dynasty 18 (about 1475 B.C.). The scene probably depicts various activities that were part of Nebamun's personal life. In the center of the top register, men gather grapes in a vinyard and at the left side of the next register down, the grapes are brought to a winery, pressed, and decanted into pottery jars while Nebamun, seated on a stool, looks on. In the bottom register, Nebamun, seated at the right, watches while a scribe named Djenutynefer (kneeling in front of him) records the branding of cattle.

In the upper right corner, Nebamun and an attendant bring offerings of thanks to a temple, and below, the outside of a house is depicted with two date palms growing from an interior courtyard.

If you look closely at the facsimile, it's possible to see that the 20th Century artist, Charles K. Wilkinson, restored parts of the scene that had been damaged since the original had been painted some 3400 years before.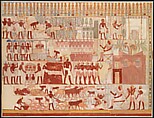 This artwork is meant to be viewed from right to left. Scroll left to view more.