Amida Manifesting in the Dharma-body of Expedient Means
Not on view
This image of the Buddha Amida (Sanskrit: Amitābha) radiating beams of light was created as a private devotional image, most likely for the home altar of a follower of the True Pure Land School of Japanese Buddhism. Unlike deluxe icons made for major temples, a work like this one would have been attached to a paper backing before it was painted—a form of prefabrication. After the image was executed, it would have been mounted on bright silks. Similar examples produced today are sometimes made in sets of three, with Amida at the center; Shinran, the founder of True Pure Land Buddhism, to the right; and Rennyo, the reviver of Honganji Temple, to the left. Alternatively, Amida is flanked by calligraphic inscriptions of ten and nine characters, respectively, known as myōgō. The simplest myōgō used in True Pure Land Buddhism is six characters, and translates to "Hail the name of Amida Buddha." Although some of the pigments are lost, much of the cut silver foil remains, and is untarnished.

The rays of light symbolize the forty-eight vows made by Amida when he was a bodhisattva to help others attain enlightenment.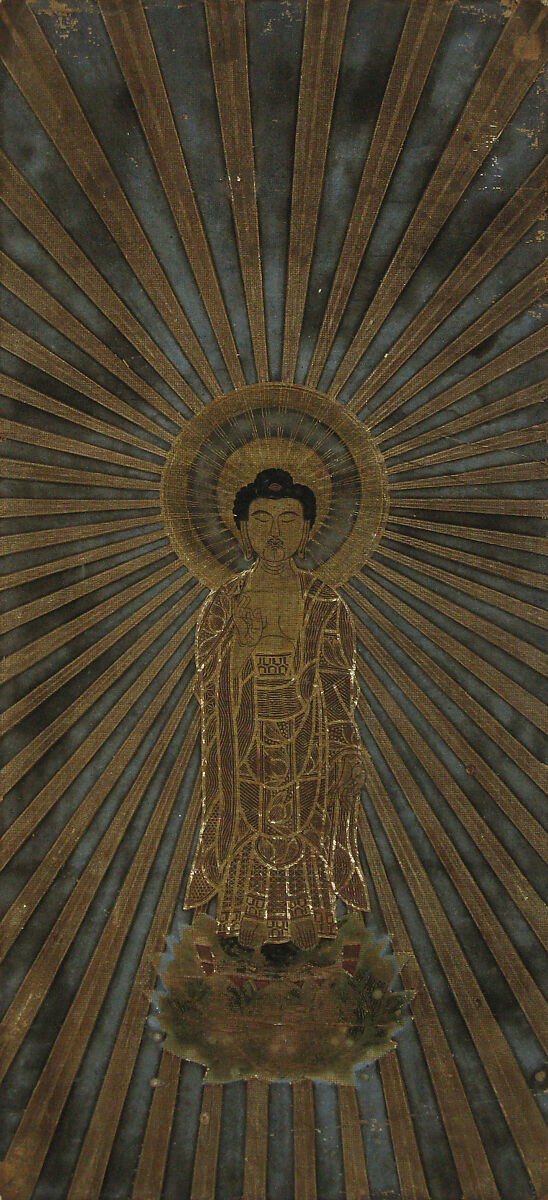 This artwork is meant to be viewed from right to left. Scroll left to view more.