A Passage to Egypt
Burhan Doğançay American, born Turkey

Not on view
A "Passage to Egypt" belongs to the "Cones Series", a special group among Doğançay's wall paintings created between 1986 and 1990. The work combines several themes the artist pursued throughout his artistic career: the play of light and shadow; the rendering on canvas of an impression taken from the street and from daily life; the transformation of the artwork into a "wall" and the expression of a personal sentiment of the artist.

The work is among the few examples of the series executed in greyscale and combines painting and collage, as well as a rare technique used by a small group of Surrealist artists (such as Salvador Dalí and Yves Klein) called fumage, where the artist holds a lit candle near the surface of the painting to deposit a patina of smoke.

Through repetition and the play of size and orientation, the persons and details in the photographs are hard to recognize and the photographs lose their realistic value and three-dimensionality. The cones, even though flat, appear as if they would stand out from the piece and create a sculptural texture to the work, while the technique of fumage applied over the photographs and the cones creates dark zones or shadows.

Photographs depicting Egyptian vistas and people allude to the making of the Orientalist gaze. The topic is further rendered by the title of the artwork itself, "A Passage to Egypt." However, the combination of an Egyptian camel rider, the artist's wife Angela, and a detail of the artist's face, rather renders this work a personal visual account of Burhan and Angela Doğançay's journey to Egypt in 1984. The traditional theme of an Orientalist work has been transformed into an autobiographical and photographic account of the couple's visit to Egypt.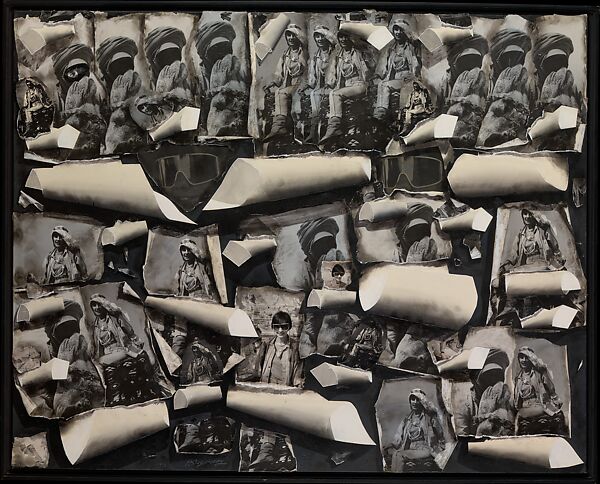 This artwork is meant to be viewed from right to left. Scroll left to view more.