Landscape for Zhanting
Wang Yuanqi Chinese

Not on view
A talented landscape painter and theorist, Wang Yuanqi inherited the mantle of orthodoxy from his grandfather, Wang Shimin (1592–1680). A high government official, he also played an important role in establishing the orthodox style as the standard for court painting under the Kangxi emperor (r. 1662–1722).

Wang derived his basic composition for this painting from the Yuan master Huang Gongwang (1269–1354), but he reduced the earlier artist's landscape forms to geometric shapes arrayed in twisting and turning echelons that set the entire mountainscape in motion. Contrasting colors and shifting ground planes further animate the composition.

Wang's inscription suggests that he took particular pleasure in completing this painting: The way of brush and ink is such that if it is not
the product of lofty and profound ideas and a happy and relaxed mood, when [the artist] adds dots and washes, his mind and hand will not respond to one another. In accord with this principle, the ancients often put away their inkstones and laid aside their brushes, often for years at a time, if the right occasion did not arise. My colleague Zhanting entrusted me with some celi paper a long time ago, but I was distracted by official business. This spring I was recuperating from illness at home. Mr. Zhanting's marvelous medicinal compound worked like the seven stimulants. I recovered immediately, feeling fully vitalized, and was able to fulfill my old promise. I note this in hopes that he will not admonish me for my tardiness.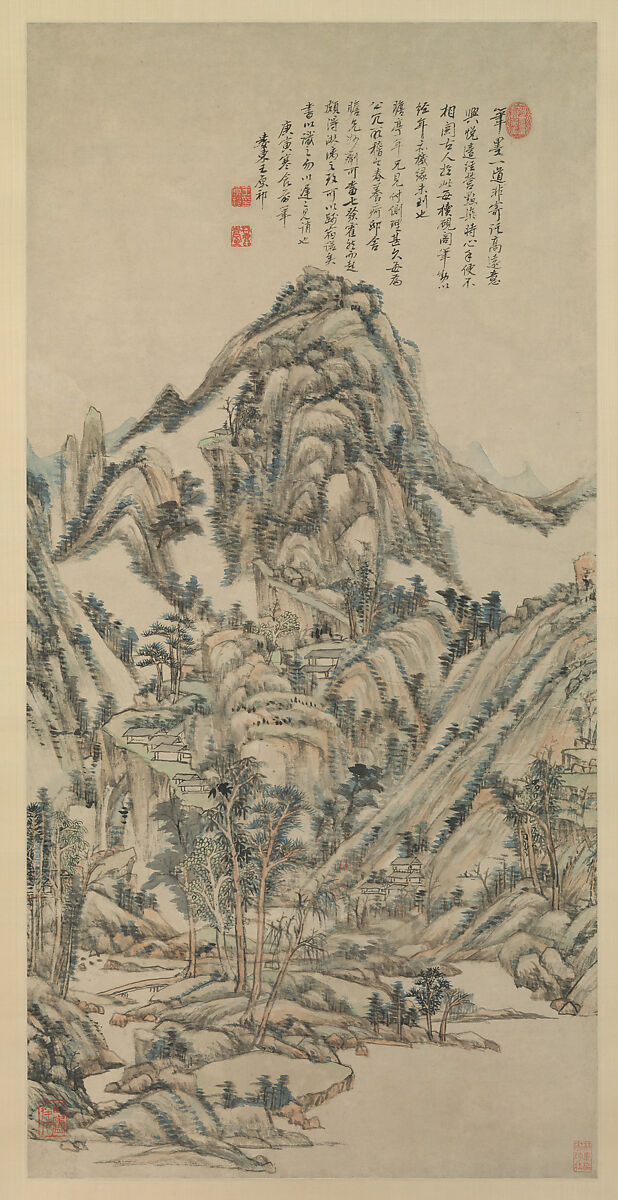 This artwork is meant to be viewed from right to left. Scroll left to view more.