Endless Prayers XXVIII
Y. Z. Kami Iranian-American

Not on view
This mixed-media work collage, from a series of the same title, comprises numerous square and rectangular strips of rice paper glued into a mesmerizing concentric composition. The Persian inscriptions that appear on these strips are scanned and printed excerpts from prayer books and verses by Jalal al-Din Rumi, the thirteenth-century poet and Sufi mystic. The circular effect, at once architectural and meditative, alludes to the motion and repetitive rhythm of the Sufi celestial dance, or samaʽ. The pattern also echoes the rich variety of elaborate brickwork found in the punctured domes of medieval Persian tomb towers and brick structures, such as the Great Mosque of Isfahan. The inclusion of turquoise blue possibly refers to the glazed tilework frequently seen in Iranian architecture.

In this composition, Y.Z. Kami, who was born in Iran but is now based in New York, uses the language of minimalism to convey an aura of meditation and tranquility associated with prayer. Kami views these patterns as metaphors for heaven and as mandalas, or diagrams of the universe, that are as ancient as humanity.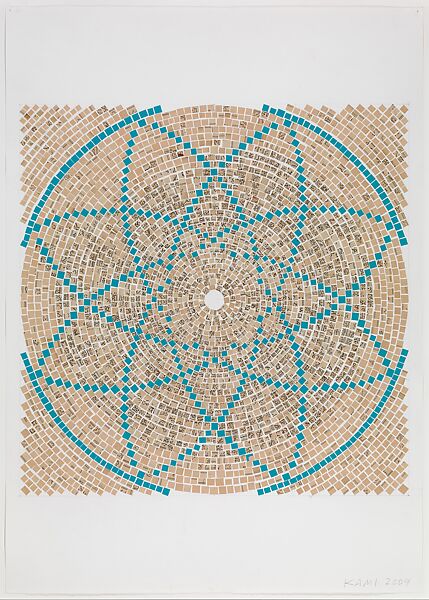 This artwork is meant to be viewed from right to left. Scroll left to view more.