Coverlet
Not on view
This coverlet is part of a group of objects, including several paintings of oil on copper (2014.171, 2, 3, 4, 5) , that belonged to Juan Bautista de Echeverría, a Spanish-born merchant who resided in Mexico City for nearly thirty years, before going back to his native village in the Baztán valley of Navarre with a considerable fortune. Spaniards like Echeverría, who went to America and returned wealthy, were known as "indios." The details of his immigration to Mexico and his return to Spain, his mercantile activities and his social ambitions, are abundantly documented in the archive preserved by his descendants in the palace he built in Irurita (Navarre). The paintings and this embroidered textile were preserved in the same location and were among the prized possessions Echeverría brought with him from Mexico in 1785.

This textile may have been used as a bedcover or a tablecloth and is embellished with a central medallion featuring personifications of the "four parts of the world," an appropriate subject for someone engaged in the business of international commerce. The female personifications of the four parts of the world rely on established iconographies. What is decidedly unconventional is the context in which they appear. They are encircled by an embroidered dedication to the merchant: "I serve Don Juan Bautista de Echeverría y Latadyz." They are also placed at the center of a textile that is densely embroidered with floral, animal, and human motifs inspired by European, Asian, and American sources: unicorns, lions, lambs, deer, birds of paradise, turkeys, and monkeys. The peculiar checkerboard-patterned fur of the monkeys appears to be a heraldic reference to the owner's native valley of Baztán. Pairs of soldiers wearing the distinctive uniform of a regiment entrusted with the protection of commerce in Mexico City is another detail that would have had personal resonance. Of broader significance, residents of Mexico City during the colonial period saw themselves at the center—not on the periphery—of converging trade networks that connected every part of the globe. The extent to which this vision permeated popular consciousness is confirmed by Echeverría's evocative textile.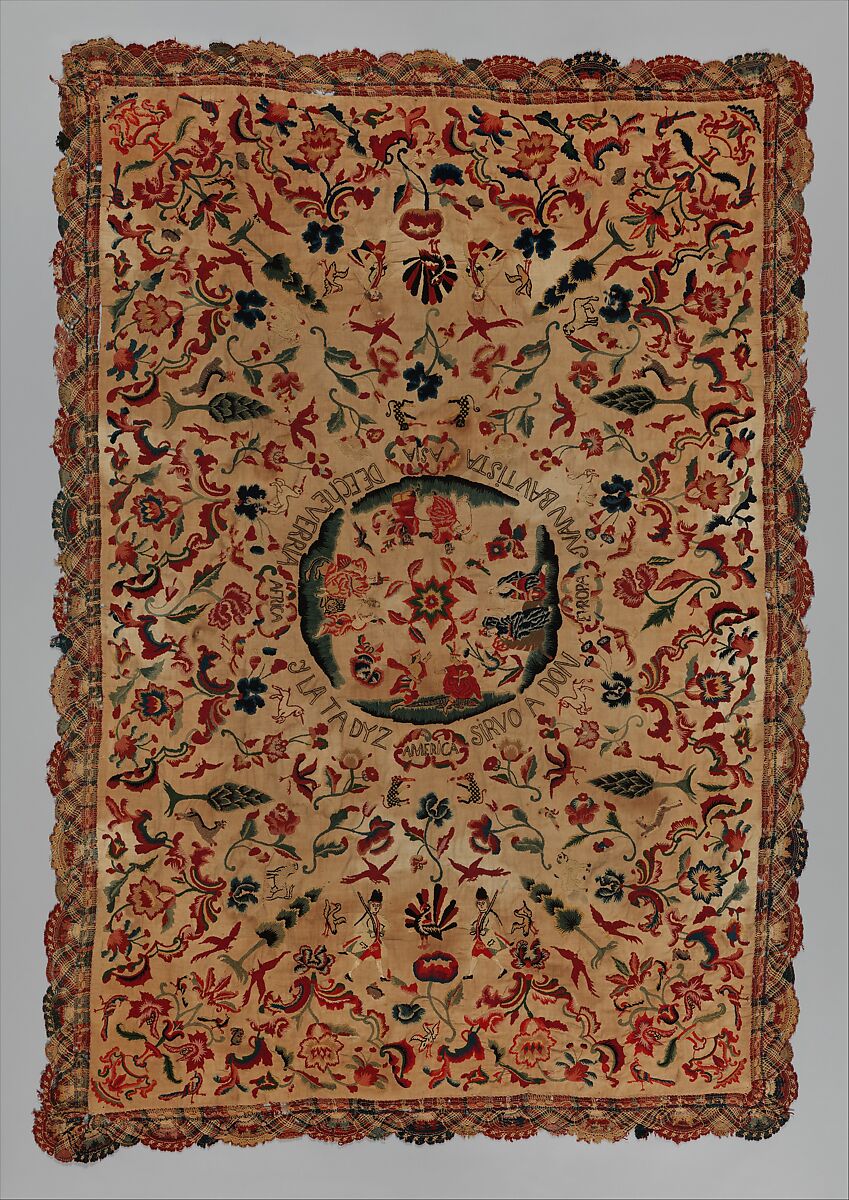 This artwork is meant to be viewed from right to left. Scroll left to view more.