Bust of a Bodhisattva, possibly Maitreya
Pakistan, Khyber-Pakhtunkhwa province
On view at The Met Fifth Avenue in Gallery 235
This handsome bust of a Bodhisattva, datable to the 2nd century AD, was produced as part of the architectural decoration of a major monastery in ancient Gandhara (present-day Peshawar district in northwestern Pakistan). The back of the piece is unfinished—originally it would have been attached to a niche or wall—a feature consistent with the vast majority of Gandharan figural sculptures; very few of which are fully in-the-round.

This bodhisattva's superbly rendered head is adorned with a slender moustache, an auspicious forehead mark (urna) and an Apollo-like hairstyle and topknot with jewel and pearl net ornamentation. The net of pearls with gemstones at the intersections culminates in a gemstone which secures the pearls looping over the topknot. The distinctive 'S' curls on the forehead is a signature motif of the Loriyan Tangai workshop, as are the strong facial features, with the subtle demarcation of planes for the nose eyebrows, and eyelids. This rendering points to an awareness of Mediterranean modelling conventions of the late Graeco-Roman tradition. Direct prototypes of Alexandrian art have been discovered further west at Begram, in Afghanistan, a likely source of the Hellenistic styling of the hair.

Other features, such as the (now damaged) ear ornaments in the form of projecting lions, and the neck torque, are north Indian attributes that circulated in the shared territories of the Kushan empire that extended from Mathura to Gandhara. The monastic robe bulks into deep folds as it passes over the left shoulder.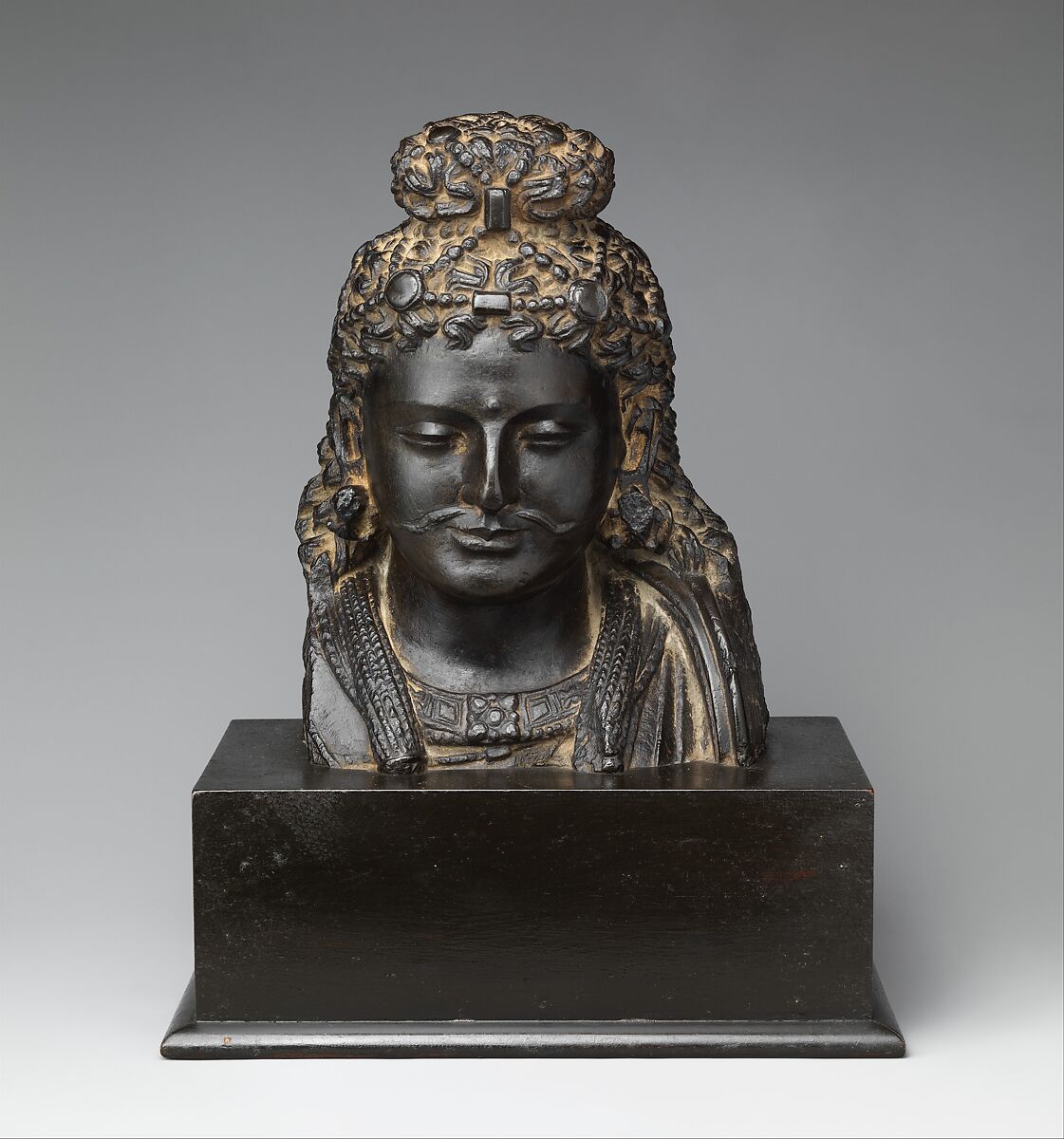 This artwork is meant to be viewed from right to left. Scroll left to view more.