Bodhidharma Crossing the Yangzi River on a Reed
Kano Genshun 狩野元俊 Japanese
Inscription by Gyokushitsu Sōhaku Japanese

Not on view
Bodhidharma (Japanese: Daruma) was a sixth-century Indian sage who is credited with transmitting Zen Buddhist teachings to China. After an unsuccessful encounter with the Chinese Liang-dynasty Emperor Wu, Bodhidharma is said to have sailed up the Yangzi River on a single reed to continue his journey to promote Zen. Executed in an abbreviated style using only a few long, flowing strokes to define the sage's robes, this work reflects an ink-painting style that was introduced from China in the late Kamakura period (1185–1333). The colophon above the figure, composed and inscribed by the noted Zen monk Gyokushitsu Sōhaku, reads:

Lightly sailing on a single reed,
He is majestic and commanding.
Far from Liang territory,
Ah, what does he recall?

Although this painting was previously attributed to the Momoyama-period artist Kano Sōshū (1551–1601), a reevaluation of the seal impressed at lower right has revealed the artist to be Kano Genshun (also called Hayato), a Kano painter of the early Edo period and first head of the minor Yamashita Kano studio.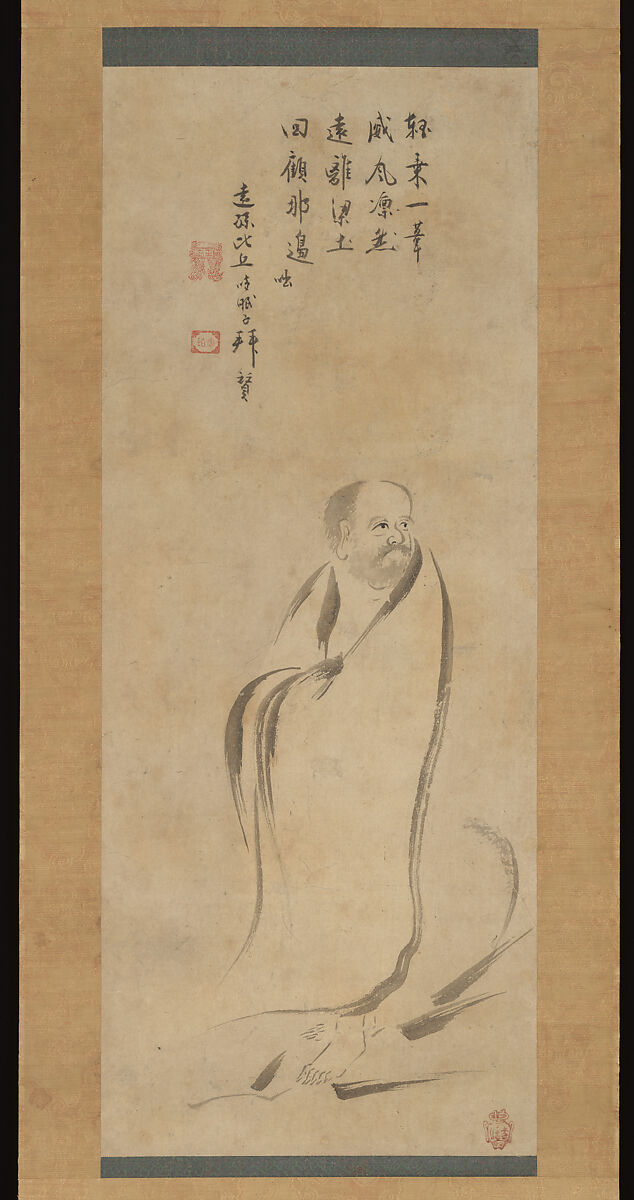 This artwork is meant to be viewed from right to left. Scroll left to view more.