Hawaiian Quilt, Lei Mamo pattern
Artist Unknown

Not on view
The techniques and designs of Hawaiian quilts such as this one are unique to makers of native Hawaiian heritage. Quilts started being made by Hawaiian women in the 19th century after Christian missionaries brought mainland American quilts to the islands with them, and used them as models to teach the Hawaiian women how to sew. Up until then, Hawaiian women had their own bedcover making tradition. They would pound the inner bark of the wauke plant until it was thin and supple, making it into sheets of kapa, which were then decorated with painted patterns (see MMA 1977.458.10.)

It is assumed that some of the quilts that came to Hawaii in the 1840s-60s were "album quilts" made from a variety of blocks, some of which typically were decorated with cut-paper designs (see MMA quilt 52.103). This type of album quilt was frequently made by church groups, with each woman contributing a block, and they were often given to members of the community or clergy upon leavetaking, so it would make sense that this was a type of quilt that traveled with the missionaries to Hawaii. The Hawaiian women were inspired by the cut-paper designs, which were made by folding a square piece of paper several times, and then cutting out a design, much like children make paper snowflakes. However, the Hawaiian women completely changed the scale of the design—instead of being a small cut-out that would fit on an approx. 12 in. x 12 in. block, Hawaiian women cut out a single very large design, (and matching border) that would serve as the overall decoration for the entire quilt.

Another important difference between mainland American cut-paper designs and those found on Hawaiian quilts is that the mainland designs were conventional and purely decorative, while the Hawaiian quilt makers made up designs that were inspired by their environment, especially Hawaii's native plants. This particular quilt, in the Lei Mamo pattern, is thought to take its inspiration from two possible sources—both a lei (floral garland) of the feathers of the now extinct Mamo bird, whose yellow feathers were used to create the well-known yellow and red feather capes and headdresses worn by Hawaiian royalty, or a lei of safflower blossoms (a cultivated thistle-like plant, Carthamus tinctorius, family Asteraceae, now grown in Hawaiian mainly for its oil) that is also commonly known as Mamo, perhaps because its yellow flowers have a feathery appearance.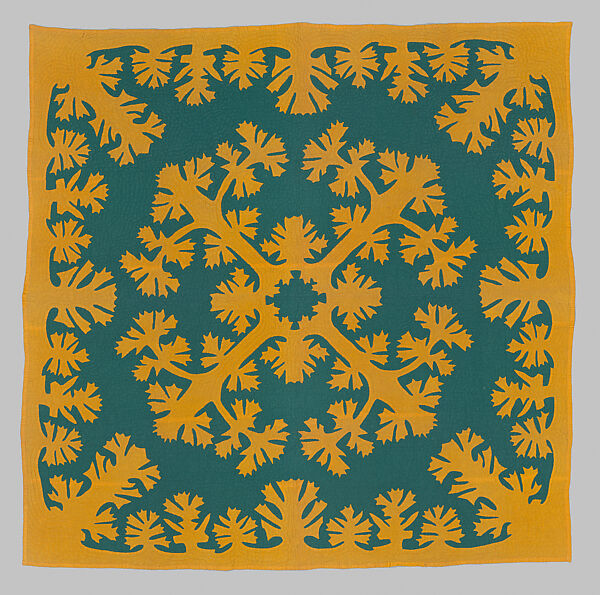 This artwork is meant to be viewed from right to left. Scroll left to view more.