Returned to lender The Met accepts temporary loans of art both for short-term exhibitions and for long-term display in its galleries.
Waterbird in Flight
Painting by Tawaraya Sōtatsu Japanese
Calligrapher Karasumaru Mitsuhiro Japanese

Not on view
uki-shizumi
nami no makai ni
kakururu mo
miyuru mo onaji
nio no kayoiji

Bobbing up and down
amid the waves,
the grebe makes its way,
indifferent as to whether
it is seen or hidden.


—Trans. John T. Carpenter

Tawaraya Sōtatsu's painting of waterfowl in flight is accompanied by a poem by the celebrated calligrapher Karasumaru Mitsuhiro on the theme of grebe (nio, or kaitsuburi) amid waves. The poem makes the grebe—sometimes seen and honored, sometime invisible and neglected—in the roiling sea a metaphor for the life of a courtier, or perhaps even the emperor, in a society dictated by the shogunate.

Although not included among the Three Brushes of the Kan'ei Era, referring to the great calligraphers of the early seventeenth century, Mitsuhiro arguably should be granted honorary status as the "fourth brush." Active in the same tea circles, he was best known for his cursive kana calligraphy. He studied waka under the famous literary scholar and cultural arbiter Hosokawa Yūsai, and also established a reputation as a poet. The style of his calligraphy, like Kōetsu's, harkens back to classical court models but at the same time partakes of a Zen-inspired eccentricity.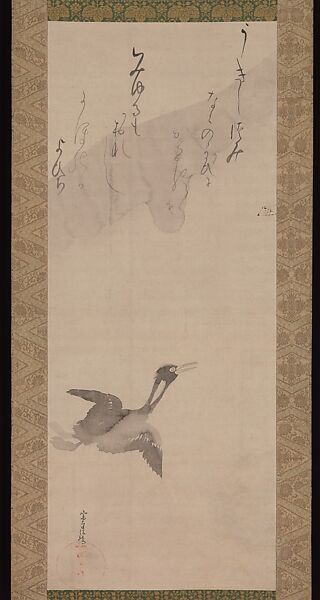 This artwork is meant to be viewed from right to left. Scroll left to view more.